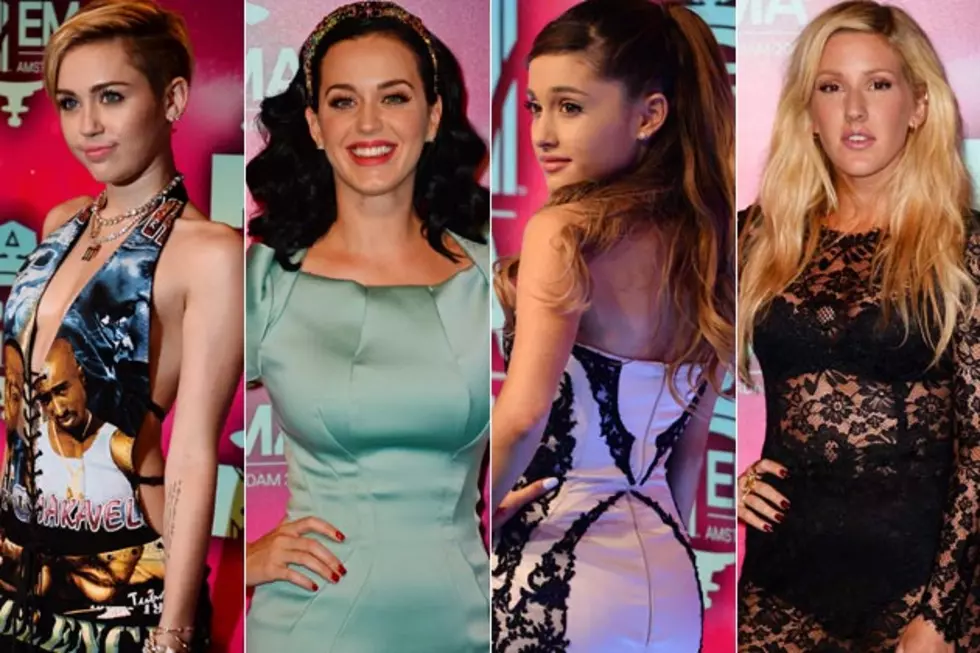 2013 MTV EMAs Red Carpet [Photos]
Ian Gavan (4), Getty Images
The 2013 EMAs, held in Amsterdam today (Nov. 10), saw celebs in a variety of different outfits. There were more cute, edgy dresses than there were fancy, couture gowns, since it's a fun, less formal event. The stars dressed accordingly and they all looked faboosh in their own, unique way.
Miley Cyrus wore a Tupac vs. Biggie Smalls shirt reconstructed into a "dress," which the twerker paired with thigh-high boots and not much else. Katy Perry was resplendent in a shiny, mint-green, pin-up-style frock. Songbird Ariana Grande ditched her usual, full-hem party dress shape for a straight one. British cutie Ellie Goulding flashed her knickers in a see-through, black lace dress.
Here's the rundown of the red carpet at the EMAs.
Pac chic. Miley was looking for street cred. Keep in mind those peep-toe boots probably carry a $2K price tag, at the very least.
Ghetto fab, with an eye on her butt cheek and thigh.
Miley got back.
We see London, we see France, we see Ellie's underpants.
Katy Perry rocked a classic shape in her satiny Zac Posen dress. She's Bettie Page for millennials.
We're used to Ari in her fluffy, frilly party dresses. She changed things up with a sheath with black lace panels on the side. Still adorbs.
A view from the back.
Rapper Iggy Azalea channelled her inner Angelina Jolie with her major slit. She showed plenty of skin in her black gown.
Icona Pop looking cute!
RedFoo of LMFAO is back and was as loud and proud, at least in terms of his fashion, as ever.
EDM star Eva Simons' hair walked into the room before she did.
Will Ferrell aka Anchorman Ron Burgundy, was a dapper gentleman.