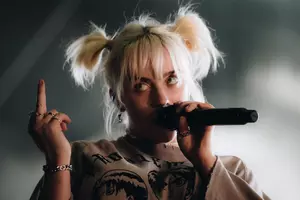 Billie Eilish Calls Out Texas New Abortion Law at Austin City Limits
Getty Images
Billie Eilish let her voice be heard in the Texas Capital.
Billie Eilish was the headliner this past Saturday at the annual Austin City Limits, but she said she almost didn't come. Since the state of Texas recently passed their abortion bill which makes it illegal to get an abortion after six weeks in the state, Billie didn't want to perform in the city, home to the Capitol where the bill was signed not too long ago. She was thinking of doing a protest and not showing up to ACL this year.
This moment during the performance was caught in the video above. This was clearly a planned speech and not something Eilish did on her own. The words 'Bans Off Our Bodies' was shown on the screens at ACL. "When they made that s*** a law, I almost didn't want to do the show, because I wanted to punish this f***ing place for allowing that to happen here. But then, I remembered that it's you guys that are the f***ing victims, and you deserve everything in the world."
She concluded with a sort of call to action by calling on concertgoers to "tell them to shut the f--- up" before raising her middle finger. Many in the crowd followed suit along with Eilish as you can see in the video.
Austin 360 reports that Billie also commented on climate change telling the audience, "If you don't think global warming exists, you're a f***ing loser." I am unable to find video evidence of this part during Billie's ACL performance, but you can read their full breakdown of that night in the link above.
Celebrity Names People Can't Seem to Spell Correctly
See some of the most common celebrity name misspellings, below.
80s Child and Teen TV Stars: Where Are They Now?