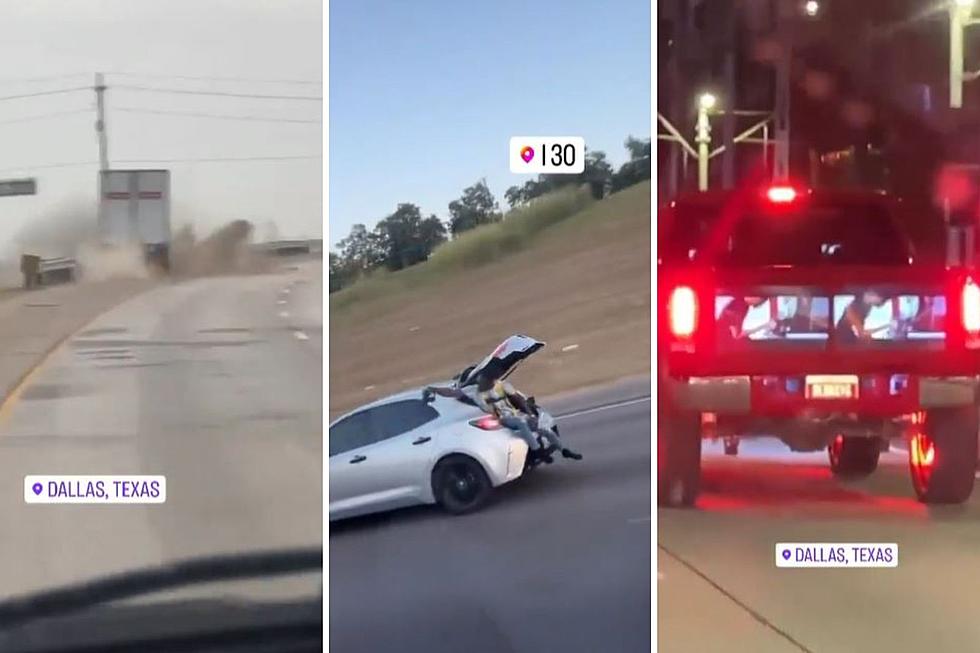 Watch a Compilation Of Dallas-Fort Worth Weekend Wildness
Twitter: Dallas Texas TV
It was a wild weekend in the Metroplex. 
Not that it isn't usually chock full of craziness on the weekend, but someone took the time to piece several wild moments together in one video for our enjoyment. 
First up is a semi busting through a guard rail and going over the side of an overpass in Dallas. While we don't see how the incident ended, hopefully, no one was struck by the semi on its way down.
Next, we see someone standing in the middle of the freeway with their hands in the air surrounded by police in Frisco. 
After that, we see a gentleman hanging out of the back of a car with the hatch open on I-30, shooting a video. That's a good way to find yourself rolling down the interstate into oncoming traffic. 
And then we have footage of a smoldering grass fire on the side of the freeway (quite possibly the tamest footage in the video). 
Finally, we see a red pickup rolling down the street with two flatscreen TVs embedded in the tailgate showing some sort of action movie for the enjoyment of those who happen to be behind them in traffic. 
I've always heard that Norwegians use the word "Texas" to describe wild behavior. Maybe they're on to something.
Take a look at the video here.
Top Ten Trashiest Towns in Texas
Time to take out the trash or show off the trash of Texas. Check out the top ten below.
(All crime statistics were pulled from
www.neighborhoodscout.com
based on each individual town. See editor's note for Lufkin, Texas.)
The 8 Best Small Towns in Texas for a Charming Getaway
8 Best Small Towns in Texas for a Charming Getaway
5 Texas Myths That Aren't Really Myths
Sure, texas isn't short on folklore. But there are many things people from outside Texas believe are myths, but are actually true.