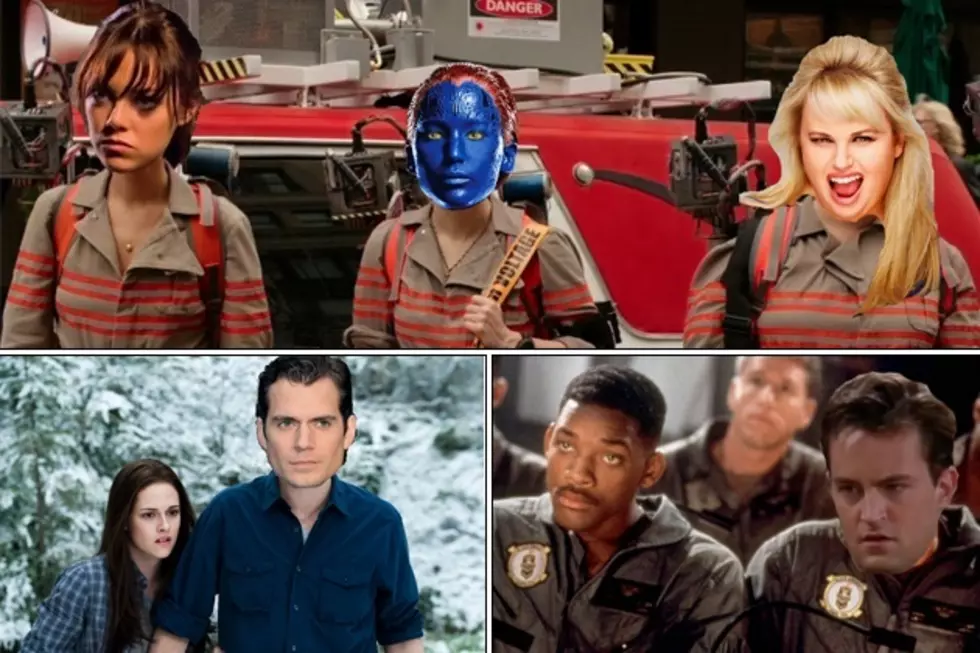 Continuing with Actors Who Almost Got the Big Role
Sony Pictures, Summit Entertainment, and 20th Century Fox
Its honestly quite amazing how many actors and actresses missed out on some pretty major roles in Hollywood.
This time around we have Fox thinking Kevin Spacey wouldn't be a big star, Saturday Night Live almost taking over a classic comedy, Clint Eastwood getting petty with Coke, and Wonder Woman nearly being Superman's villain.
Rosario Dawson as Miri and Kelly LeBrock as Bubbles in 'Zach and Miri Make a Porno'

The role of Miri was written with Rosario Dawson in mind, but she was unable to accept the role because of scheduling conflicts with 'Eagle Eye'.
Kelly LeBrock was in contention for the role of Bubbles before it was given to Traci Lords.

Henry Cavill and Jackson Rathbone as Edward, Michael Angarano as Mike Newton, and Cam Gigandet as Carlisle in 'Twilight'

Stephanie Meyer's initial choice for Edward was Henry Cavill. By the time they got around to casting for the film, Cavill was too old to pass for a perpetually 17-year-old and was instead offered the role of Carlisle Cullen. Cavill turned the part down due to his commitment to 'The Tudors'.
Mike Newton was originally intended to be played by Kristen Stewart's then-boyfriend Michael Angarano.
Cam Gigandet was offered the part of Carlisle Cullen, but asked director Catherine Hardwicke to consider him for the part of James, which he ultimately got.
Jackson Rathbone was offered the role of Jasper Cullen after being a final contender for the role of Edward.

Judith Hoag as April and Corey Feldman as Donatello in 'Teenage Mutant Ninja Turtles II: Secret of the Ooze'

Neither Judith Hoag nor Corey Feldman were asked to reprise their roles as April O'Neil and the voice of Donatello, respectively, in the sequel to 'Teenage Mutant Ninja Turtles'. Hoag believes her constant complaining on the set of the first film cost her the role in the sequel, while Feldman has said that the studio didn't want his then-recent stint in rehab to harm the family-friendly image they were focusing on with the new film.

Kyle Eastwood as Daniel in 'The Karate Kid'

Clint Eastwood's son Kyle auditioned for the role of Daniel LaRusso. Clint was so upset when his son didn't get the part that he banned all Coca-Cola products for the sets of his movies since Columbia Studios was owned by Coke at the time

Joe Manganiello as Deathstroke, Blake Lively as Enchantress, and Emma Roberts as Harley Quinn in 'Suicide Squad'

In early drafts, the mercenary Deathstroke was to have a brief appearance with Joe Manganiello being the favored name for the part. Manganiello would later be confirmed as Deathstroke for the first Ben Affleck stand-alone Batman film.
Blake Lively had to turn down the part of Enchantress because of scheduling conflicts with 'The Shallows'.
Emma Roberts was initially offered the role of Harley Quinn but said she'd rather work on 'Scream Queens'

Adam Brody, Jenna Dewan, Chris Marquette, and Efren Ramirez in 'Revenge of the Nerds' Remake

A remake to the 80s classic was given the greenlight by Fox for a 2007 release. Filming began in Atlanta, with the intention to film on Emory College. Emory College declined due to the nature of the script and the production was shifted to Agnus Scott campus. The remake was to star Adam Brody, Jenna Dewan, Chris Marquette, and Efren Ramirez. The studio called off film after production issues and being unsatisfied with the dailies.

Gal Gadot as Faora in 'Man of Steel'

Gal Gadot was the lead contender for the part of Zod's second-in-command Faora, but was unable to take a physical role because she was pregnant.

Kevin Spacey as President Whitemore and Matthew Perry as Captain Wilder in 'Independence Day'

The role of President Whitmore was written by Dean Devlin with his high school friend Kevin Spacey in mind. However, Fox executives refused, saying Spacey didn't have what it takes to be a big star.
Matthew Perry was originally cast as Captain Jimmy Wilder but dropped out at the last minute.

Jennifer Lawrence, Rebel Wilson, and Emma Stone in 'Ghostbusters: Answer the Call'

During pre-production, Jennifer Lawrence, Rebel Wilson, and Emma Stone were all considered for roles. Stone was offered a role and liked the script, but was not interested in committing to another potential series after her work on 'The Amazing Spider-Man'.

Anthony Michael Hall and Dana Baron as Rusty and Audrey, Rowan Atkinson as a hotel manager, and Harold Ramis as director for 'National Lampoon's European Vacation'

Filmmakers originally wanted the entire Griswold family actors to return for the sequel, but Anthony Michael Hall decided to accept a lead role in 'Weird Science'. Without Hall, original Audrey actress Dana Barron wasn't asked to return.
Rowan Atkinson was wanted to play the hotel manager, but the part went to Mel Smith who co-starred with Atkinson in 'Not the Nine O'Clock News'.
Harold Ramis was asked to return as director but wasn't able to accept because of working on 'Ghostbusters'.

SNL Cast Members, Meatloaf, and Jack Webb in 'Animal House'

Several members of 'Saturday Night Live' were original choices for major characters. D-Day was written for Dan Aykroyd, with the character's motorcycle affinity based on Aykroyd's own. According to John Landis, Lorne Michaels threatened to fire Aykroyd if he took the part. Producer Ivan Reitman wanted Bill Murray and Chevy Chase for the roles of Boon and Otter, respectively. John Landis didn't feel Chase was right for the part and convinced him to take a role in different film. Chase later expressed regret for missing out on the film. John Landis also reportedly was hesitant to giving the impression it was a 'Saturday Night Live' film.
Writer Harold Ramis wrote the part of Boon for himself, but that was ultimately ruled out by John Landis who felt Ramis was too old for the part. Ramis was so disappointed by Landis' decision that he refused a smaller role Landis offered.
In the event John Belushi stepped out of the role of Bluto, Meat Loaf was set to replace him.
Jack Webb was offered the role of Dean Wormer, but turned it down believing the film would harm his image.

Chris Jericho as Rondo, Natasha Lyonne as Candy, James Avery as Charlie, and Karen Black as Mother Firefly in 'The Devil's Rejects'

WWE Superstar Chris Jericho auditioned for the part of Rondo but was rejected for being "too pretty". The part ultimately went to Danny Trejo who was partnered up with another pro-wrestler, Diamond Dallas Page.
Natasha Lyonne was cast to play the prostitute Candy, but was later replaced by Elizabeth Daily.
'Fresh Prince of Bel Air' star James Avery was an initial choice for the role of Charlie the pimp.
Karen Black was set to reprise her role of Mother Firefly from 'House of 1,000 Corpses', but was asking for too much money. Rob Zombie couldn't afford what Black was asking for and recast the part with 'Police Academy' alumni Leslie Easterbrook.