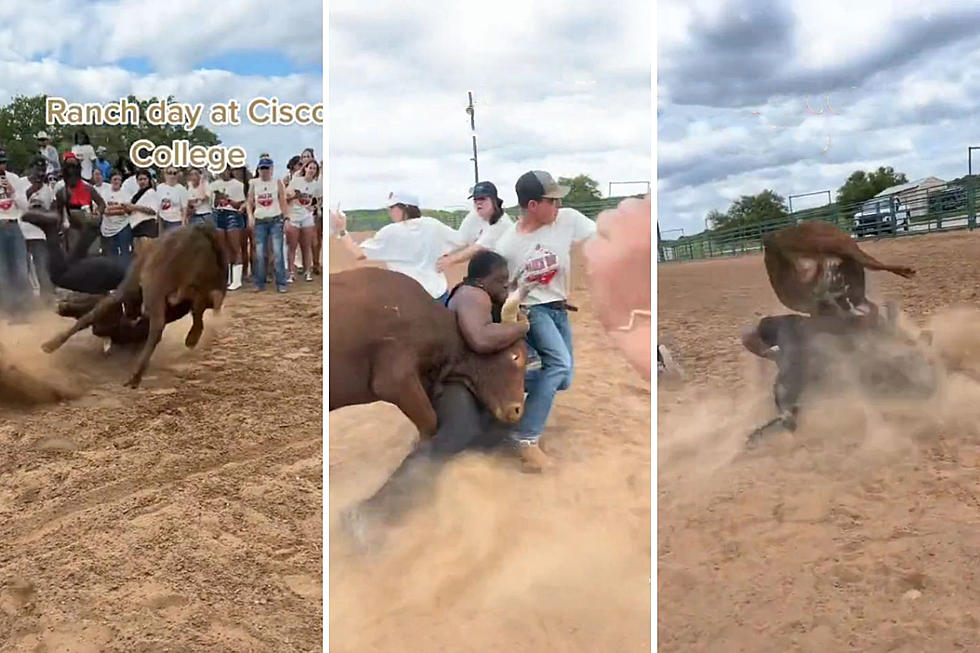 Watch: Fearless Student Wrestles Bull at a Texas College
Twitter/Canva
My college did not have a Ranch Day and I feel ripped off.
Ranch Day at Cisco College is an awesome event where students get to compete in rodeo-style contests.
Looks like they have a potato sack race and a cow pie throw.  But the bull wrestling is where it's at.
We have an up close and personal video via Twitter that featured one brave soul's attempt to best a bull.  Let's break it down.  
And they're off
The video at the bottom of this article begins with the chute opening and the bull charging out with a man wrapping him up in a chokehold.  The man and the bull immediately head plant and go upside down.   
Not a spectator sport
Both man and beast regain their footing, and after a beat, the bull gets steered horns first directly into the ribs of an innocent bystander.  
Oof!
After that, they head plant again and that's where the video ends for some reason. 
  Check out the video for yourself below!  
Top Ten Trashiest Towns in Texas
Time to take out the trash or show off the trash of Texas. Check out the top ten below.
(All crime statistics were pulled from
www.neighborhoodscout.com
based on each individual town. See editor's note for Lufkin, Texas.)
10 Must-Try Food Stops, From Houston, TX to Dallas, TX
The Best Hidden Gems in Texas