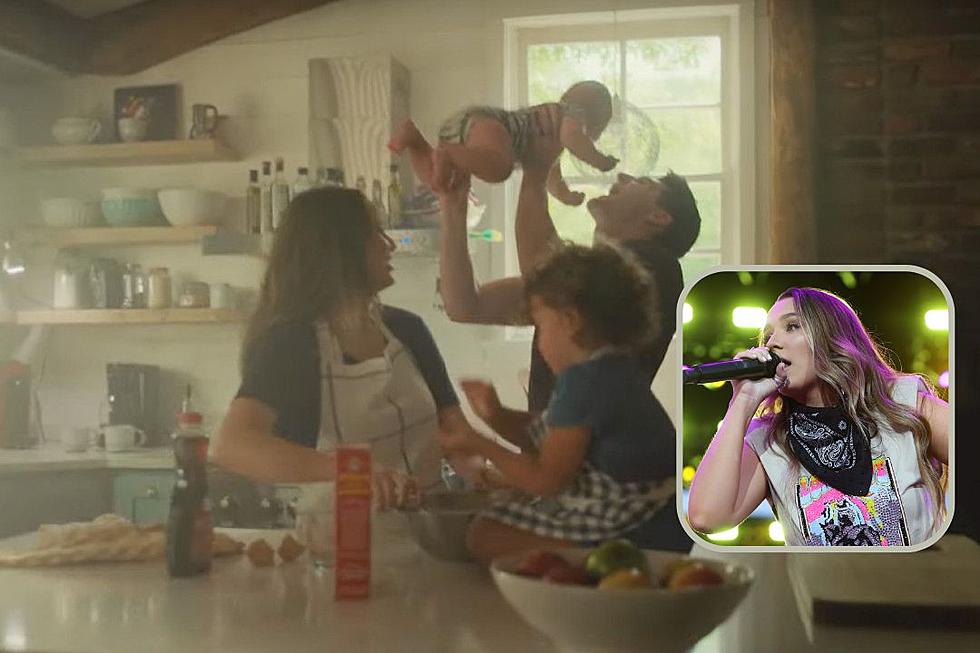 Gabby Barrett's Two Kids Co-Star in Her Family-Focused 'Glory Days' Video [Watch]
YouTube/Monica Schipper, Getty Images
Gabby Barrett's two young children, 2-and-a-half-year-old Baylah May and 8-month-old Augustine Boone, are the stars of the show in the music video for her latest single, "Glory Days."
The song is a grateful anthem for day-to-day life — from "barefoot babies laughin' and pickin' daisies" to "Bible verses in the kitchen like it's holy ground" to "you pickin' that six-string" — so it makes sense that her family is the focal point of the video.
What is a little surprising, though, is just how much of her intimate home life the singer reveals in the video, since she's typically pretty private about her kids, and doesn't show their faces on social media.
While the "Glory Days" video still doesn't show direct shots of either of the children's faces, it does offer a look into how the singer spends her off-days at home. In various scenes in the clip, Barrett has a picnic in the grass with her kids, teaches Baylah to bake and rocks little Augustine in the kitchen.
Of course, the singer's husband — fellow musician Cade Foehner, whom she met while both were contestants on American Idol — is heavily featured in the music video, too. In one shot, Barrett and Foehner zoom around outdoors on an ATV; elsewhere in the clip, the couple read Bible verses together on their front porch, and Foehner holds Baylah's hands as she dances while standing on his feet.
Foehner has acted alongside his country star wife in previous music videos — he starred as her love interest in the video for "Pick Me Up" — but it's the first time that the country couple's kids have played such a prominent role in a music video.
"Glory Days" is the first new song Barrett has released since her massively successful 2020 debut album, Goldmine. She's hinted that her next album is well on its way, and it will include music written about her kids and motherhood.
Barrett has said that Luke Combs wrote one of the tracks on the project, a song penned from the perspective of a parent to a little girl. Combs wrote it when his wife Nicole was pregnant with their first child, but he didn't know yet whether they were expecting a boy or a girl.
Combs wound up having a baby boy named Tex in 2022, and Nicole is currently pregnant with their second son, so it wouldn't make sense for him to put out a song about having a daughter. Since Barrett is mom to Baylah, he sent the song to her instead.
See American Idol Contestants Then and Now