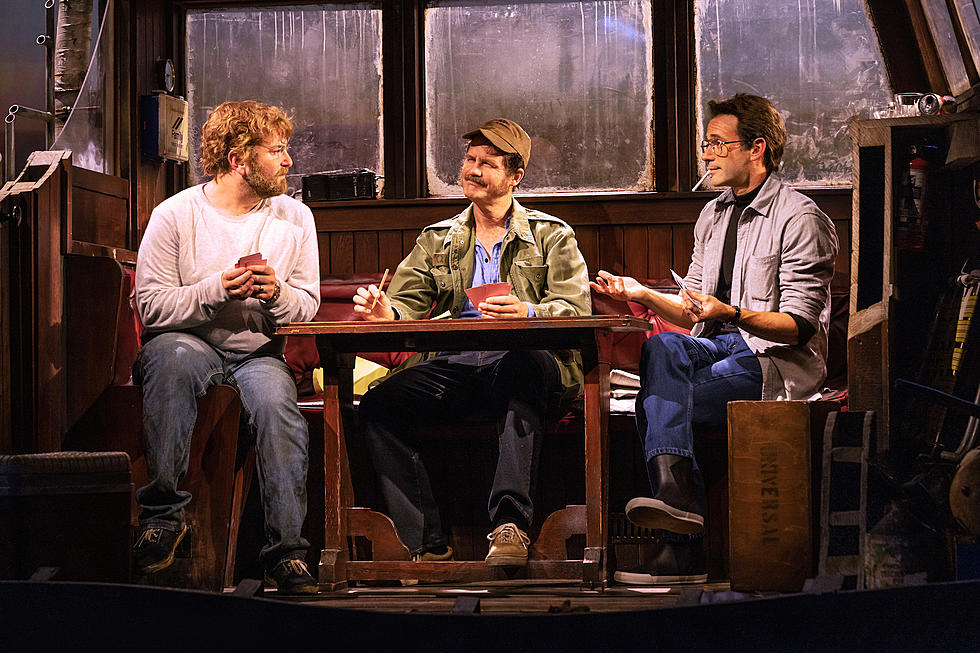 'The Shark Is Broken' Brings the Making of 'Jaws' to Broadway
Matthew Murphy
Jaws runs 124 minutes. Its title character does not appear onscreen until minute 82.
This was less of a bold artistic choice on the part of director Steven Spielberg than a matter of necessity; the production's mechanical shark, affectionately nicknamed "Bruce," never worked. Each evening, Spielberg would assemble his cast and creative team at his bungalow on Martha's Vineyard, and game plan the next day's shoot based on what they thought Bruce — and the temperamental ocean weather — would allow.
Many involved with Jaws thought the film would be as disastrous as the shoot itself. But Spielberg managed to turn his technical limitations to his advantage. His strategy: Keep Bruce offscreen, and use what the audience cannot see to stoke their imaginations with suggestive editing and camera angles, along with John Williams' brooding score.
READ MORE: Every Steven Spielberg Movie Ranked From Worst to Best
A similar structural gambit is currently being employed at Broadway's Golden Theatre, in a highly entertaining production of the play The Shark Is Broken. The show could be described as a chronicle of the making of Jaws. But, like Jaws itself, The Shark Is Broken leaves much to the audience's imagination.
The entire play is set on an impressive recreation of the Orca, the ship piloted in the film by grizzled fisherman Quint (played in Jaws by Robert Shaw), marine biologist Hooper (Richard Dreyfuss), and police chief Martin Brody (Roy Scheider). A large video wall behind the boat plays role of the Atlantic Ocean; as The Shark Is Broken begins, its title comes to pass, with the unmistakeable silhouette of Jaws ominously slicing its way through the water until it sparks and sputters out. (The production was designed by Duncan Henderson, with projections by Nina Dunn.)
From that point on, Bruce is never seen again. Very little of the actual production of Jaws appears either. Instead, the 90-minute play focuses on what actors Shaw, Scheider, and Dreyfuss did aboard the Orca in between takes. They mostly discuss their differing philosophies about acting and celebrity, compare their childhoods, and recreate a few choice bits of famous behind-the-scenes Jaws lore — like the incident, recounted in interviews by the real Richard Dreyfuss, where Shaw challenged him to a pushup contest.
Spielberg himself is not a character, although his voice is heard calling out to the actors in scenes that recreate Jaws most famous sequence that doesn't involve a great white shark: Quint's tale of his survival from the destruction of the U.S.S. Indianapolis, which delivered the nuclear bomb that was dropped on Hiroshima, then was sunk by a Japanese submarine. Because the bomb was top secret, so was the Indianapolis' journey, which meant it was days before the survivors were rescued — and by that time, dozens of American sailors had already been eaten by sharks.
Comparing the footage of Robert Shaw above to the images of "Robert Shaw" in The Shark Is Broken in this article reveals the astonishing resemblance between the two. That's because Robert Shaw in the play is portrayed by his real-life son, Ian Shaw, who also co-wrote The Shark Is Broken with Joseph Nixon. The younger Shaw discovered his father's diary in 2017, and in doing so began to contemplate the fact that he was roughly his father's age — and an uncanny ringer for him physically — when he made Jaws. He developed this show, which played the Edinburgh Fringe Festival and the West End before arriving on Broadway.
Ian Shaw has created a powerful tribute to his father, although not a one-dimensional one. The Robert Shaw of The Shark Is Broken is a commanding screen actor, and a gifted writer — as well as an tempestuous alcoholic and a bully. His demeanor can turn on a dime from jovial prankster to raging tyrant. In The Shark Is Broken's most striking visual moment, he stands on the bow of the Orca during a raging thunderstorm and surveys the squall in the distance. At least in Ian Shaw's vision of him, there's not an enormous gulf between Robert Shaw and the imposing and slightly mad Quint, who suffers no fools and has clearly been broken in some fundamental way by a traumatic past.
The target of Robert Shaw's rages in The Shark Is Broken is Dreyfuss, who is embodied with extraordinary fidelity by Alex Brightman, best known on Broadway for playing the lead roles in several other recent shows connected to films: Beetlejuice and School of Rock. As Dreyfuss, Brightman is hilarious, annoying, quick-witted, neurotic, possibly strung out on cocaine, and the ideal counterpart for the older Shaw, who represents a very different generation of actor, and a very different approach to acting. ("Mind your mannerisms!" Shaw warns Dreyfuss just before cameras roll on one scene.)
Brightman's Dreyfuss starts off as The Shark Is Broken's comic relief, but his performance really deepens in the play's second half and becomes something much more than a good impersonation of a famous actor. (The third and by far least showy member of the trio is Colin Donnell as Roy Scheider, the mediator and peacekeeper of the group.)
The Shark Is Broken relies a bit too heavy on ironic pronouncements about the future; Set in 1974, its Robert Shaw all too accurately predicts a cinematic future that will consist only of sequels and remakes, while also insisting that in 50 years time, no one will remember the little shark movie they are making. Such declarations occur repeatedly. One or two would have been clever; half a dozen feels a little too cute.
That doesn't stop The Shark Is Broken from becoming essential viewing for any fan of Spielberg's iconic thriller. That damn mechanical shark was such a technical disaster — and yet it not only created the conditions that enabled Jaws to become a classic, it's now provided the raw materials for this very funny and moving play.
VHS Tapes That Sold For Shocking Amounts of Money
These VHS tapes recently sold for hundreds of even thousands of dollars.