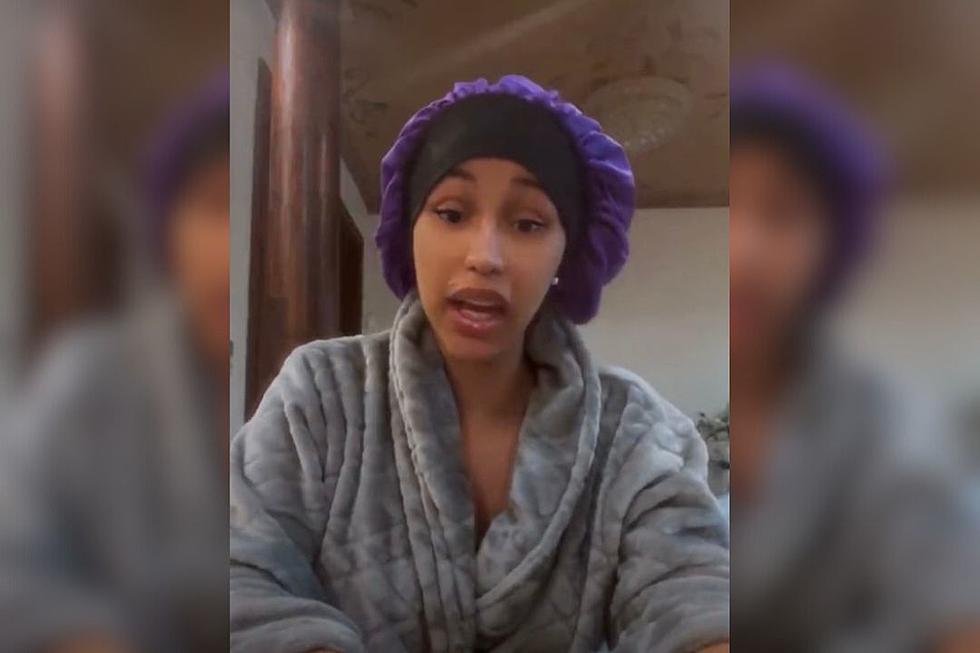 Cardi B Calls Out Budget Cuts in New York City That Will Affect Schools and Libraries
Updatesofcardi/X
Cardi B is mad as hell. In an angry diatribe, Cardi B called out budget cuts in New York City that will affect several city agencies including schools and libraries.
Cardi B Slams New York City Budget Cuts That Will Hurt Schools and Libraries
Over the weekend, a video surfaced on social media featuring Cardi B on Instagram Live talking to her fans about an urgent issue that's happening in her hometown of New York City. On Thursday (Nov. 16), New York Mayor Eric Adams announced steep cuts to the New York City budget that would affect schools, libraries and the New York Police Department. Mayor Adams warned that more cuts would be necessary without additional federal funding to manage the ongoing migrant crisis in the city.
Cardi B went off on IG Live, which you can watch below, about New York City cutting funding for schools and libraries, two institutions that are already underfunded. In her 10-minute rant, the New York rapper called out the decision makers for cutting essential services.
"In New York there is a $120 million budget cut that's going to affect schools, public libraries and the police department," explained Cardi. "And a $5 million budget cut in sanitation. B***h, we are gonna be drowning in f**king rats," she added.
Cardi, who was wearing a bathrobe and a bonnet on her head, criticized President Joe Biden for funding two wars instead of helping with NYC's budget issues. The Grammy award-winning rhymer may be referring to the U.S. government's financial assistance with the Ukraine war against Russia and the Israel and Gaza conflict in the Middle East.
"We are really, really f**ked right now," Cardi stated regarding the massive budget cuts in NYC. "No we can not fund these f**king wars. Keep it a bean. Y'all doing budget cuts on the biggest city in the United States."
In the end, Cardi wants the U.S. government to stop funding wars and start helping to fund cash-strapped cities like New York who are going through a budget crisis.
"Ain't going to be no after school for ya kids, teachers rarely gonna get paid, they are closing library branches," she said. "If your kid can't think, if your kid can't buy books at the book fairs, your kids can't barely even f**king read at the library. They are going to close that s**t, b***h."
"Crimes are going to go up the roof, b***h, because there's a police safety budget cut and on top of there's a sanitation f**king budget cut that means we are going to be drowning in rats and squirrels and raccoons, b***h!"
"But yeah we got money to fund f**king wars. We don't have it!" she concluded.
New York City Mayor Eric Adams New Budget Slashes City Services
Although Cardi B was all over the place with her angry rant, her concerns about New York City's budget cuts to several city agencies are extremely valid.
New York Mayor Adams announced a series of painful cuts that would significantly reduce essential city services such as libraries, summer school, policing and sanitation. Adams blames the ongoing migrant crisis in his city for the steep budget cuts.
"Migrant costs are going up, tax revenue growth is slowing and COVID stimulus funding is drying up," Adams said in a statement (via Gothamist). "No city should be left to handle a national humanitarian crisis largely on its own, and without the significant and timely support we need from Washington, D.C., today's budget will be only the beginning."
Many New Yorkers, including Cardi B, have a right to be upset about what's happening to their beloved city right now.
Watch Cardi B's angry rant about New York City's budget cuts below.
Watch Cardi B Go Off About New York City's Budget Cuts That Will Affect Schools, Police Departments and Libraries
Watch Fox 5 New York's Report on New York Mayor Adams Painful Budgets Cuts That Will Affect City Services Below
See the Rappers Who Excel in Rapping About One Subject