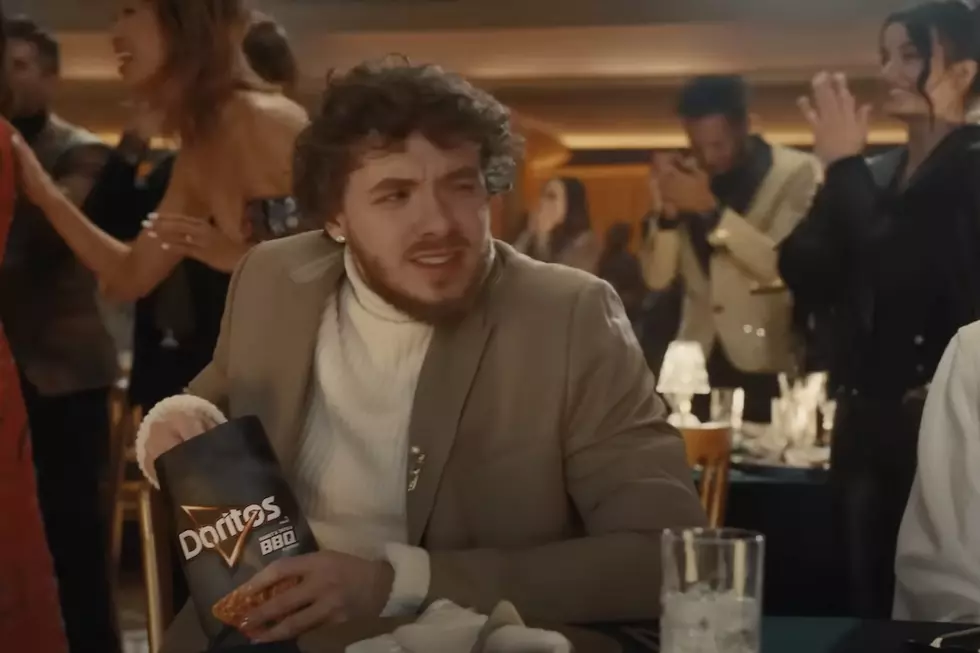 Jack Harlow Super Bowl Commercial – Watch Doritos Ad
Doritos/YouTube
Jack Harlow falls in love with a triangle in his new Super Bowl commercial for Doritos.
On Wednesday (Feb. 8), Frito-Lay premiered their commercial for Doritos Sweet & Tangy BBQ flavor chips, starring Jack Harlow, which will air during Super Bowl 57 on Sunday (Feb. 12). The 60-second spot also features cameos from hip-hop icon Missy Elliott and rock icon Elton John.
In the ad, titled "Jack's New Angle," the "First Class" rapper retires from rap to pursue a career playing the triangle instrument. In doing so, it sends Harlow on a musical journey where he becomes obsessed with the three-sided instrument and the ding-ding-ding sound it makes.
At one point, Missy implores Harlow to not take up the triangle as a profession to which the "What's Poppin'" rapper responds, "I gotta do me, Missy." But while Harlow prepares himself to possibly win a major honor for his triangle-playing skills at an awards ceremony, he's usurped by piano king Elton John, who wins the Triangle Player of the Year award. "What the fuck?" said astonished Jack Harlow before the commercial ends.
In an interview with Billboard, Harlow said he and Missy had a ball shooting the Doritos ad.
"We were laughing and joking and having a good time," he tells the publication. "But I also just wanted to hear stories about some of the things she did and where her head was at when she was making music early in her career."
Last week, Hulu revealed a preview video of the White Men Can't Jump reboot starring Jack Harlow and Sinqua Walls. The film will debut on the streaming service on May 19.
Watch Jack Harlow's Doritos Super Bowl 57 Commercial Below
See Rappers Name Their Top Five Favorite Rappers of All Time
Drake, Kendrick Lamar, Lil Wayne and more.