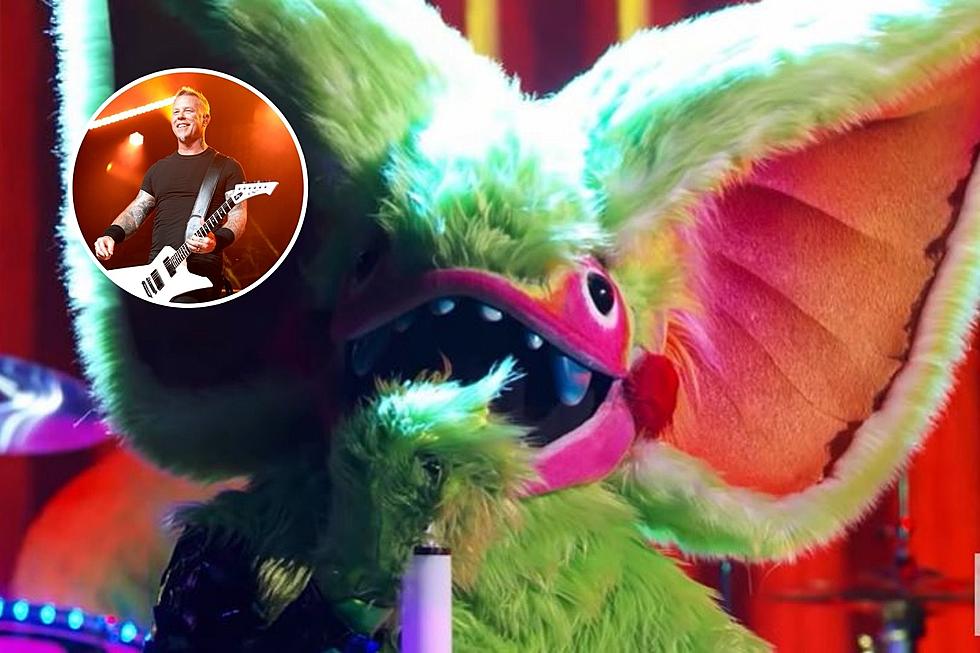 'The Masked Singer' Judge Thinks Metallica's James Hetfield Is Thingamabob
Kevin Winter, Getty Images for BB Gun / YouTube: The Masked Singer
The seventh season of The Masked Singer just premiered last night and one of the contestants might just be James Hetfield. At last that's what Judge Ken Jeong thinks, speculating that the "Thingamabob" is none other than the Metallica frontman.
The Masked Singer judge Ken Jeong has a hunch about the first performer to hit the stage this season. Based on the height of Thingamabob, a fuzzy green thing with huge ears, a pink face and a large mouth, Jeong believes Thingamambob is the "For Whom the Bell Tolls" singer.
"This would be amazing if this was the lead vocalist of Metallica, James Hetfield," Jeong says. "Because think about it for a second, he is huge. If you look at the clue package the bell reminds me of their famous song 'For Whom The Bell Tolls.'"
While Thingamabob does look pretty tall, and James Hetfield is over six feet tall, there are some other guesses for who the contestant really is. In the episode, other judges make their guesses and think Thingamabob could be pro wrestler/Fozzy singer Chris Jericho or NFL player Terrell Owens. We personally hope that the person under the mask is actually Peacemaker aka John Cena, especially since a bald eagle was shown as part of the clue package.
Thingamabob says that rock music is something they grew up with and they say it transformed them. "I want my voice to be the biggest clue," they add. This statement made The Masked Singer judges think that perhaps the contestant is changing their voice to throw them off.
You can watch Thingamabob perform Bon Jovi's "Wanted Dead or Alive" below and decide for yourself who you think is under the mask.
Ken Jeong Thinks "Thingamabob" Is James Hetfield on 'The Masked Singer'
10 Rock Stories We Want to See As TV Series After 'Pam & Tommy'
The world needs more rock dramas.