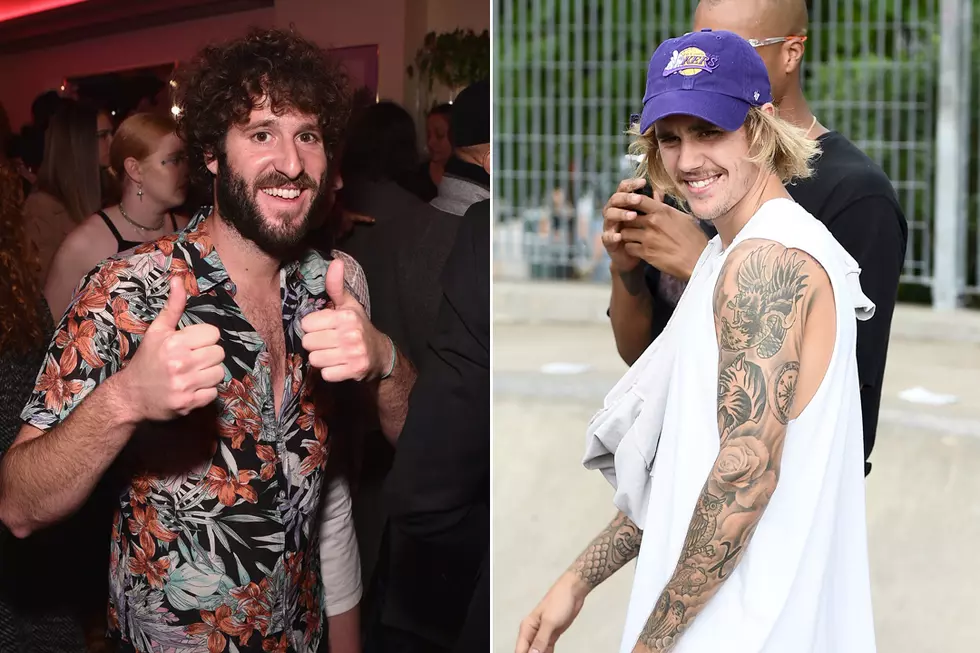 Lil Dicky Is Dropping a New Song With Justin Bieber: Report
Bryan Bedder/
Theo Wargo, Getty Images (2)
Lil Dicky is about to hit the streets with a brand-new single, and apparently, Justin Bieber will be there with him when he does so.
According to a report TMZ posted Wednesday evening (April 10), the former XXL Freshman has tapped Bieber for his new single, which will be his first since 2018's "Freaky Friday" with Chris Brown. While neither Dicky nor Bieber have publicly acknowledged their rumored collab, the celebrity news site notes that Bieber retweeted Dicky's April 9th tweet about dropping a new song and video next week. It's not confirmation, but it could definitely be something.
News of Dicky's impending new drop comes as the rapper-actor-writer has found himself knee-deep in the world of TV. Back in February, Dicky's Kevin Hart-executive-produced comedy TV series was picked up by FX. The show, which is one loosely based on Dicky's own life as a late-blooming rapper, is one he made it clear he was excited about.
"I'm so thankful for everyone who made this possible, it really is what I've been dreaming about since I was a kid," Dicky told Deadline at the time. "I love making people laugh, it's my favorite thing ever. And even though I'm still fully in love with and committed to my career as a rapper, I'm excited to write jokes that don't need to rhyme every time. Ugh, that rhymed."
Check out Dicky's mysterious tweet about a new song and video below.
See 65 Hip-Hop Albums Turning 20 in 2019