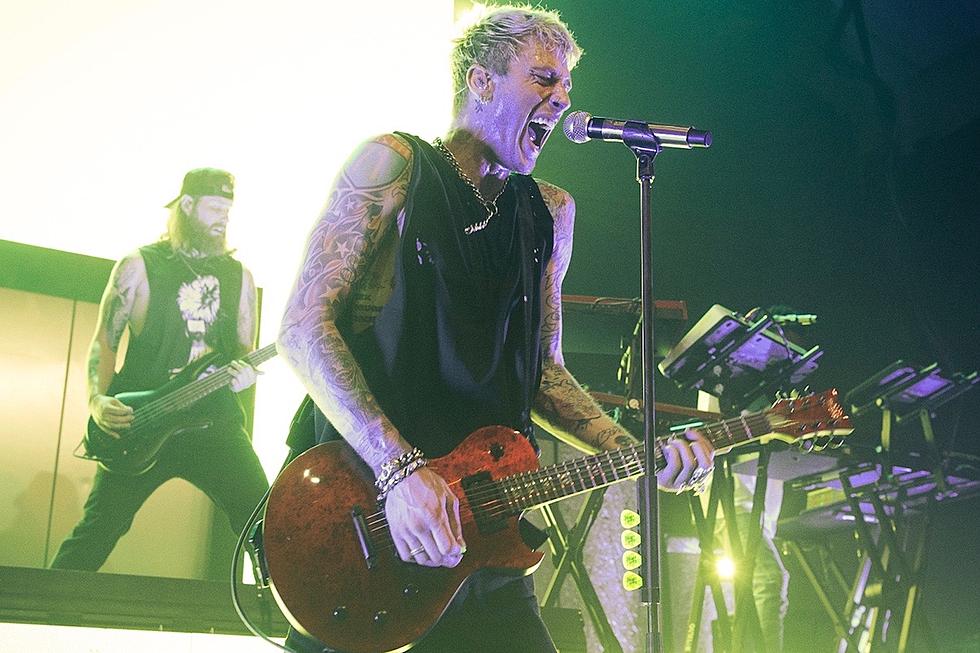 Rapper Machine Gun Kelly Drops New Rock Song 'why are you here'
David Wolff-Patrick, Getty Images
Remember when Machine Gun Kelly tweeted that he would release a rock album in 2020? Yeah, well, he wasn't lying. He just dropped a new song called "why are you here," and it is definitely a rock song.
On this new catchy track, MGK ditched the hip-hop beats and left the rapping behind. There's a soft guitar melody, bass, drums — all the components that make up a typical rock song — and he's singing, backed by some chanting in the choruses.
"10 years later some people still don't understand this one simple fact: you can't box me into one genre," the... er, rap-turned-rocker tweeted back in June. Screw this pigeonholing thing, listen to "why are you here" below.
Machine Gun Kelly "why are you here" Lyrics
I hate that I saw you again last night
You were with somebody and so was I
Met you in the bathroom at 12:05
And I fucked you again
We can never be friends, yeah, yeah, yeah
I'm not myself
I'm not myself when you're around, no
Can't be helped
We are insane, that's just the way it goes
I'm a demon in the night
She's an angel with the white
Told me keep on all the lights
I'ma show you what you like
Help you put back on your clothes
Make sure nothing's on your nose
Ain't even tell my closest homies, nobody knows
I hate that I saw you again last night
You were with somebody and so was I
Met you in the bathroom at 12:05
And I fucked you again
We can never be friends, yeah, yeah, yeah
I couldn't cry
I need to smoke, I'm feeling sick inside
From seeing you next to a friend of mine
We didn't speak but I read your mind
Both telling lies, our alibis didn't work this time
I'm a demon in the night
She's an angel with the white
Told her keep on all the lights
You can show me what you like
Help me put back on my clothes
Make sure nothing's on my nose
Can't even tell my closest homies, nobody knows
I hate that I saw you again last night
You were with somebody and so was I
Met you in the bathroom at 12:05
And I fucked you again
We can never be friends, yeah, yeah, yeah
We can never be friends, yeah, yeah, yeah
(We can never be friends, yeah, yeah, yeah)
We can never be friends
We can never be friends, yeah, yeah, yeah
Yeah, I know that I said I was at home
Okay, yeah, you caught me
I thought that you said you were all alone
Look at you lying
I hate that I saw you again last night
You were with somebody and so was I
Met you in the bathroom at 12:05
And I fucked you again
We can never be friends, yeah, yeah, yeah
We can never be friends, yeah, yeah, yeah
(We can never be friends, yeah) Yeah (Yeah, yeah) Yeah
We can never be friends
We can never be friends, yeah, yeah, yeah
12 Rappers Who Are Inspired By Rock Music