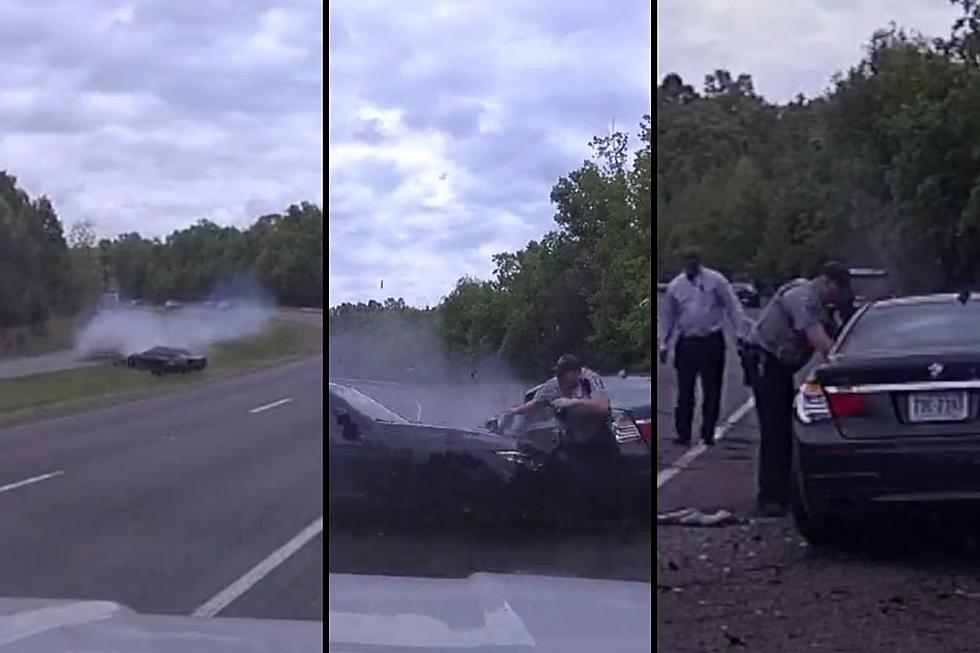 Metal and Glass Fly in Wild Wreck Caught on Camera
Twitter/Canva
Wow! Thank goodness nobody was seriously hurt.
Seriously, this could have been really bad.
The video at the bottom of this article shows a patrol officer barely escaping getting struck by a car careening out of control.  Let's break it down.
Kids suck at driving
The video opens with a routine traffic stop. According to this article, this officer cop had the gray BMW pulled over for a routine traffic stop.  Suddenly, we see a black BMW hauling butt. The 17-year-old driver apparently loses control, because that bad bay spins around and crosses the median.
Nice reflexes bro!
The cop notices the car immediately and takes evasive manoeuvres.  He ended up in perhaps the only spot where he wouldn't have been crushed by either one of the BMWs.
Back to work
The officer immediately calls for backup and goes to the driver's window to check on them.  The drivers of both vehicles and the passenger in the gray BMW were treated for minor injuries at the hospital and released. So good news, absolutely nobody involved was seriously hurt.
The end
That's it, check out the video for yourself below and keep scrolling for the best comments from Twitter.
Top Ten Trashiest Towns in Texas
Time to take out the trash or show off the trash of Texas. Check out the top ten below.
(All crime statistics were pulled from
www.neighborhoodscout.com
based on each individual town. See editor's note for Lufkin, Texas.)
10 Must-Try Food Stops, From Houston, TX to Dallas, TX
The Best Hidden Gems in Texas