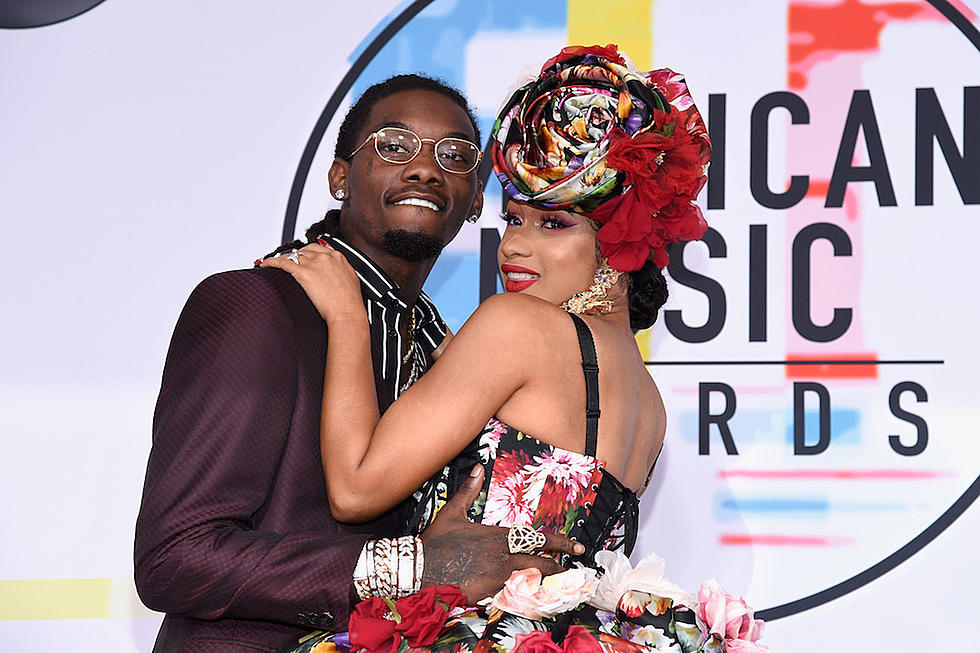 Offset Slammed For Crashing Cardi B's Performance to Beg For Her Forgiveness
Kevork Djansezian/Getty Images For dcp
Cardi B came to Offset's defense after fans slammed him for crashing her Rolling Loud set to beg for her forgiveness.
The Migos rapper unveiled massive flower arrangements that read, "Take Me Back Cardi" on stage during Cardi's performance in Los Angeles on Saturday. He then hopped on the microphone to plead his case with his estranged wife and it appeared, at the time, like Cardi wasn't feeling it. Fans captured video of Cardi seemingly shutting Offset, 27, down, which made its rounds on Twitter.
"CARDI MADE OFFSET LOOK LIKE A FOOL LMAO," one fan tweeted along with the video.
Eventually, Cardi had to take a stand for her former man. She thanked fans for having her back, but asked that they refrain from "violating my baby father." Cardi said, "at the end of the day, that's still family."
"Guys, I just want to say thank you so much for everybody that's been supporting me, that been loving me," she said in an Instagram video. "And that feel like they need to defend me... I don't want people to, like, doing f--- s---, saying f--- s---. Violating my baby father isn't going to make me feel any better, because at the end of the day, that's still family."
Cardi continued, "Unfortunately, we going through things and, um, it's not private, it became public...and I just want things to die down, I just need time so we can see eye-to-eye. I can't predict the future, I don't know. I don't need people coming at my baby father and s--- that doesn't make me feel any better. And I just want to say thank you, everybody. Respect my wishes."
In a second video, Cardi addressed fans who felt that her previous post meant she and Offset were trying to work things out. She assured fans that she doesn't have plans to reconcile, adding that she just wants everyone to go easy on him.
"I'm not saying I'm going to get back together with him," she said. "I just don't like that bashing online thing."
Cardi went on to note that "just earlier" Instagram users saw Pete Davidson open up about "not wanting to be on this earth," adding that she would never want it to come to that for Offset.
"That's a nasty feeling," she said. "And I wouldn't want that."
Fans are angry with Rolling Loud organizers, who appear to have been in on the stunt. Before Cardi B took the stage, the festival's official Twitter account tweeted, "Whatever happens tonight on the @audiomack stage, it's going viral. Make sure you're there tonight for Bardi." They then tweeted a photo of Cardi and Offset's confrontation, captioning it, "Y'all won."
Since Cardi and Offset announced their split earlier this month, the Atlanta-based rapper has tried multiple times to get her back. He recently posed a video begging on Instagram, saying all he wanted for his birthday was a second chance with Cardi.
7 Surprising Facts About Cardi B