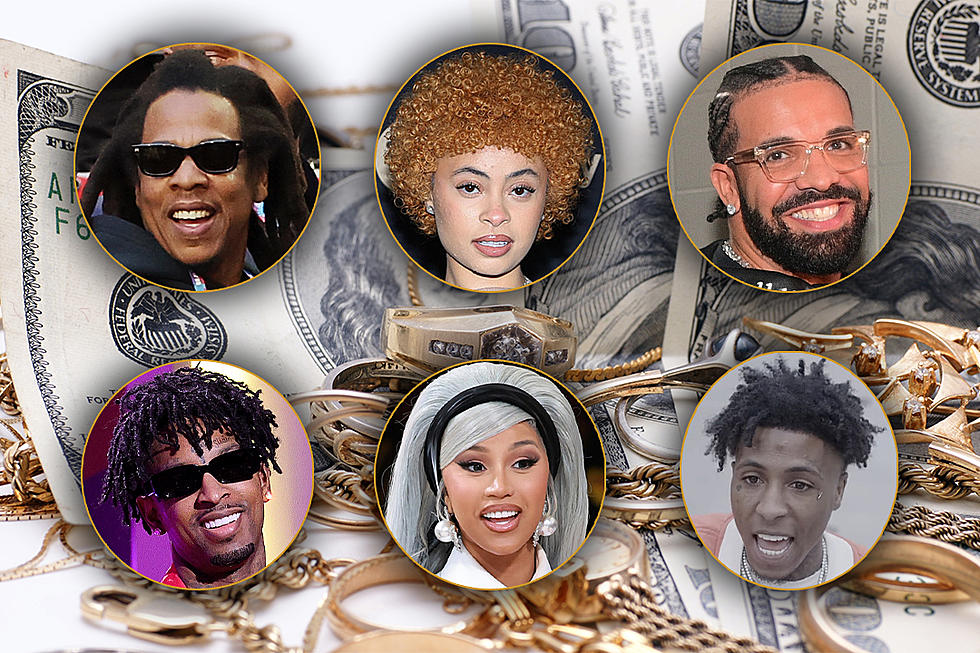 Incredibly Expensive Gifts Rappers Have Bought Each Other
m.czosnek/Mike Coppola/Steven Simione/Prince Williams/Theo Wargo/Tim Mosenfelder/Getty Images (7)
Rappers rarely hesitate when it comes to dropping a bag on themselves, but they also don't mind spending racks on their peers. From cars to jewelry and everything in between, members of the hip-hop community have gifted each other some of the most extravagant gifts imaginable and some of them will surprise you.
Remember the time Jay-Z gave out Rolex watches as a party invite? Back in 2019, Hov gave VIP status a whole new meaning. Instead of going the route of having calligraphy written on nice parchment paper to invite people to his Shawn Carter Foundation Gala, he sent out bottles of Ace of Spades champagne, which costs about $300, and rose-gold Rolex Cosmograph Daytona watches, which have a price tag of nearly $40,000. Big money, to say the least.
Meek Mill and Swizz Beatz were among those to receive the wristpiece and shared their excitement via social media. "Hov sent these as VIP passes smh this rich shit is getting out of control," Meek said. "I'm not joking lol," he added. As for Swizz, the beatmaker shared a photo of the luxury watch and bottle of bubbly on IG and said, "Hov is on another level with the invite game."
A year later, in 2020, Kanye West gave 2 Chainz an early birthday gift: a customized Sherp Pro ATV. A Sherp Pro ATV is a Russian-Ukrainian-manufactured all-terrain vehicle that can ride over boulders, fallen trees, marshes, deep snow and much more. The company, which was founded in 2012, makes several other models, but for Chainz's 43rd birthday, Yeezy gave him the pro model. The Sherp Pro ATV is worth somewhere north of $120,000.
Then, there was the time in 2014, when French Montana and Khloe Kardashian gave Diddy a pearl white Cadillac Escalade truck for the mogul's 45th birthday. Completely stunned, Puffy graciously accepted the $70,000 SUV. "Oh my God! What the fuck is this?...You know only niggas from Harlem give pearl trucks," Diddy said before embracing French with a hug.
Take a look below to see more of the high-price tagged gifts that rappers have given each other.
Jay-Z Sends Out $40,000 Rolex Watches as Party Invites

Jay-Z sent out Rolex watches as VIP invites to some of his his rapper and entrepreneur friends for his Shawn Carter Foundation Gala in 2019. The Rolex Cosmograph Daytona Oyster, 40 mm, in Everose gold will run you $39,350.

Kanye West Gifts 2 Chainz an ATV 

In 2020, 2 Chainz was treated to a very special gift from Kanye West, a customized Sherp Pro ATV. The purchase is likely a birthday gift to Chainz, who celebrates his big day on Sept. 12. According to Yahoo! Sports, the vehicle is worth upwards of $120,000.

French Montana and Khloe Kardashian Buy Diddy a Pearl Escalade Truck

To celebrate his 45th birthday in 2014, French Montana and Khloe Kardashian gave Diddy a pearl-white Cadillac Escalade SUV. The car, which is estimated to be worth more than $70,000, is almost too extravagant to look at.

Cardi B Surprises Offset With a Refrigerator Containing $500,000 for His Birthday

Kanye West Buys CyHi the Prynce a Bentley

In 2018, Kanye West bought G.O.O.D. Music rapper CyHi the Prynce what appears to be a Bentley Mulsanne Sedan, which goes for between $310,000 and $341,000.

Drake Gifts 21 Savage With a Ferrari

Drizzy gave 21 Savage a 2016 red Ferrari 488, which is worth $275,000.

Rick Ross Gives Meek Mill a Range Rover for His 25th Birthday

With Range Rovers costing anywhere between $40,000 and 140,000, Rick Ross spent several racks on Meek Mill's black Range for his 25th birthday in 2012.

Jay-Z Gifts Meek Mill With a Roc-A-Fella Records Chain

To commemorate the relationship between Roc Nation and Meek Mill, Jay-Z gifted Meek the chain off his neck. Artists signed to Jay's Roc-A-Fella Records received a Roc chain in previous years. Fabolous is another rapper who wasn't signed to Roc-A-Fella, but has received one of the chains. He received it as a 40th birthday gift.

Cardi B Gives Megan Thee Stallion a "WAP"-Inspired Hermés Birkin Bag

To mark the success of their single "Wap," Cardi B spared no expense on her collaborator Megan Thee Stallion by giving the 25-year-old rapper a Hermès Birkin Bag last month. For a bag of this caliber, the price tends to range from $27,000 to $500,000 and that doesn't include the custom artwork Cardi had drawn on the purse to commemorate their Billboard Hot 100 No.1 song.

Lil Yachty Gives Quavo $27,000 for His Birthday

Lil Yachty gives Quavo a grand for every year he's been born. For his 27th birthday, the Migos rapper presented his friend with $27,000.

Gunna Hands Young Thug a $100,000 "Cake" for His Birthday

For his 29th birthday, Gunna blessed his mentor, Young Thug, with $100,000 cash. The Young Stoner Life Records affiliate arranged the cash like a cake with a candle placed in the center of a dinner roll that sat in between stacks of twenty dollar bills.

Quavo Gives Saweetie a Diamond Snowflake Pendant

Around Christmastime in 2018, Quavo gifted Saweetie a $75,000 necklace. The chain is an iced out pendant with a blind out snowflake to go along with the "icy girl" moniker the rapper has created for herself.

Offset Buys Cardi B a Rolls-Royce SUV for Her Birthday

To commemorate her 28th year of life and possibly win back her affection amid the announcement of their impending divorce, Offset purchased Cardi B a Rolls-Royce Cullinan SUV. The car costs over $300,000 and 'Set also included an $8,000 car seat for their 2-year-old daughter, Kulture. Thankfully for Set and Bardi, one of hip-hop's top couples made amends.

Playboi Carti Gifts YoungBoy Never Broke Again a New Chain

In June of 2023, Playboi Carti commissioned Jewelry Unlimited to reportedly gift NBA YoungBoy with a chain made from top to bottom with baguette stones along with an upside-down cross pendant comprised of 11 solitaire stones. The famous jewelry company claims that Carti's gift to YB is in celebration of an upcoming joint project from the two rhymers.