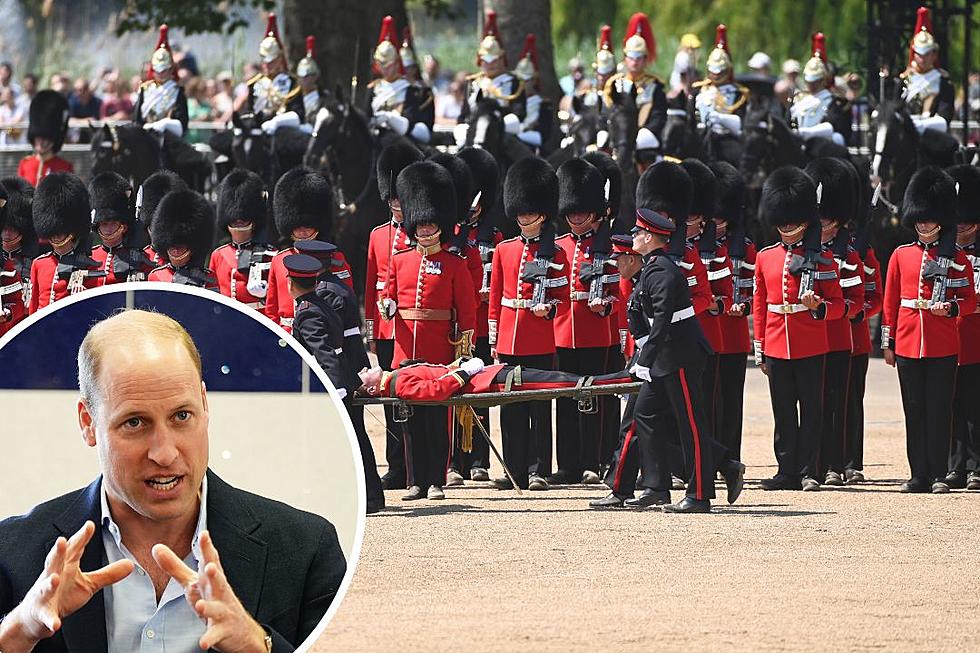 Prince William Reacts After Royal Palace Guards Faint From Extreme Heat During Outdoor Rehearsal
Aaron Chown - WPA Pool / Stuart C. Wilson, Getty Images
Prince William has responded after several British palace guards passed out due to the extreme heat during an outdoor rehearsal for a royal event on Saturday (June 10).
"A big thank you to every soldier who took part in the Colonel's Review this morning in the heat. Difficult conditions but you all did a really good job. Thank you. W," Prince William tweeted after the event.
"The hard work and preparation that goes into an event like this is a credit to all involved, especially in today's conditions," Prince William added in a separate tweet marking the event.
The guards were participating in the Colonel's Review, a military parade where the soldiers are reviewed by Prince William, who is heir to the throne and honorary Colonel of the Welsh Guards. The event includes more than 1,400 soldiers from the Household Division and the King's Troop Royal Horse Artillery.
The event was a rehearsal for Trooping the Colour, an annual military parade overseen by the monarch each June. This year, the event will be hosted by the newly coronated King Charles III.
READ MORE: Funniest Memes + Reactions to King Charles' Coronation
Multiple guards fell victim to the heat this year, which was apparently around 86 degrees Fahrenheit in London. One of the guards who fainted was a trombone player from the military band, according to CBS News. They were seen being carted away on a stretcher.
This isn't the first time the British guards have succumbed to the heat in their woolen tunics and bear-fur hats.
People reports that at least five guards fainted during the 2017 Trooping the Colour event that celebrated Queen Elizabeth.
"We can confirm that during the Queen's birthday parade today, a small number of soldiers fainted. It is an extremely hot day, and all were removed from the Parade and checked by medical staff where they were hydrated," a spokesperson at the time said.
Celebrities Who Dated or Married Into Royalty
Check out 13 Hollywood stars who reportedly dated or married into royalty or nobility.