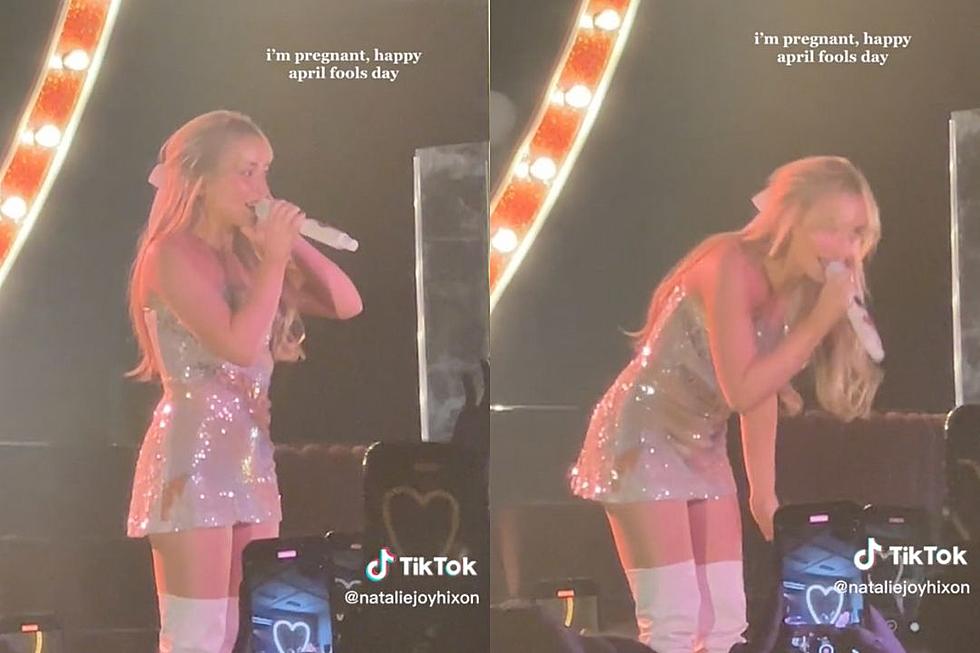 Sabrina Carpenter Faces Backlash Online for Onstage April Fool's Joke
@nataliejoyhixon on TikTok
Sabrina Carpenter's "Nonsense" outros are iconic, and she kept the tradition going for April Fool's Day in Salt Lake City.
The pop singer creates a custom outro for her viral hit song at each new tour stop, and Saturday's (April 1) started out simply: "Put your hands up if you live in Salt Lake," she sang.
"How do you get alcohol on Sundays?" she continued. "I'm pregnant!"
After a brief, silent pause, she added, "Happy April Fool's Day!" as fans cheered.
Watch the TikTok, below:
The fan-recorded video has been viewed more than 800,000 times on TikTok, but some people weren't amused by the joke.
READ MORE: Are Shawn Mendes and Sabrina Carpenter Dating?
"The silence was so loud," one person commented on TikTok.
On Twitter, one person replied to the video and said, "Ooof, that's some bad PR team she has. Who told her this was a good idea? Incredibly insensitive to people who can't get pregnant, have had miscarriages, or how about women currently pregnant but at high risk for losing the baby? Why are people so dumb?!"
"I'm sorry, but this is not funny at all. What we not finna do is mock pregnant women," another person added.
One person even compared the joke to doing blackface.
"'I'm Pregnant' April fools day jokes [...] Black face Halloween costumes— every single year followed by shock when they're not received well," the person said.
Their tweet was met with more backlash, like one person who said, "Go outside, I beg."
Someone else tweeted, "I thought literally everyone knew this was not an okay April fools joke?"
Meanwhile, others defended the "Vicious" singer.
"Bruh it is a joke. she CAN get pregnant, but she is not. the joke is about her and her only, everyone else who does not find it funny can and should look away. she is hurting no one," a fan said.
"ur infertility issues r no one else's problem and no where did she make this about infertility, can we stop projecting our insecurities on women in 2023?" another person added.
Celebrities' Worst Onstage Meltdowns