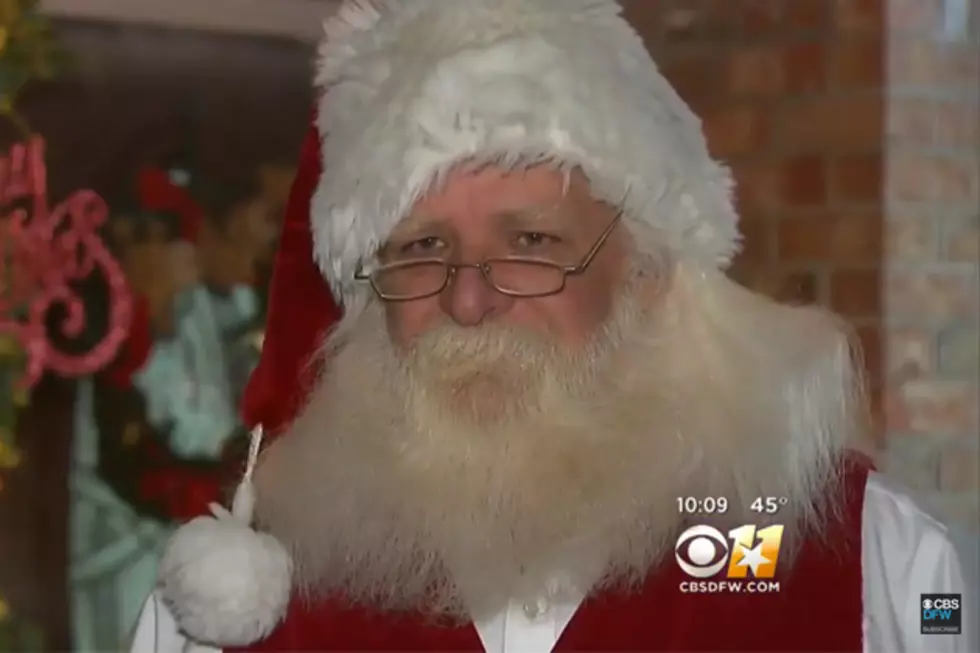 Santa Claus Kicked Out of Six Flags Over Texas
YouTube
A Texas man with an uncanny resemblance to Old Saint Nick was kicked out of Six Flags Over Texas for passing out candy canes.
Jerry Henderson of Burleson is a season pass holder to Six Flags along with his wife. The couple go to the park every weekend and walk around for exercise. This past weekend, Henderson says he was approached by a woman who asked if her children could take a picture with him, telling CBSDFW,
Knelt down, put my arms around them, and afterward I reached in my wife's walker, pulled out two candy canes, handed it to them.
Shortly after, Henderson was approached by park security and told he'd have to leave because he looked too much like Santa Claus. Henderson spoke to the park manager, asserting that he never approaches the children and only responds to requests from parents. Henderson, who has cultivated his Santa look for 20 years, offered to take off his Christmas vest and Santa hat and stop passing out candy canes, but the park manager told Henderson he'd have to shave his beard too, which Henderson refused,
Not for you, Six Flags, or anybody else, am I shaving my beard off.

I go to Walmart like this. This is me. I enjoy making kids smile.
Henderson has since asked for a refund on his season pass, but hasn't heard back from Six Flags yet. The park released an official statement, citing the safety of children and their policy of no costumes as reasons for asking Henderson to leave,
We apologize that Mr. Henderson was inconvenienced, but the safety of our guests is always our highest priority. We cannot knowingly allow individuals who are not approved by the park to interact with small children in this capacity. Mr Henderson was handing out candy to our younger guests and was dressed up as Santa which is in violation of our No Costume policy. When asked to change he refused and at that point was asked to leave.