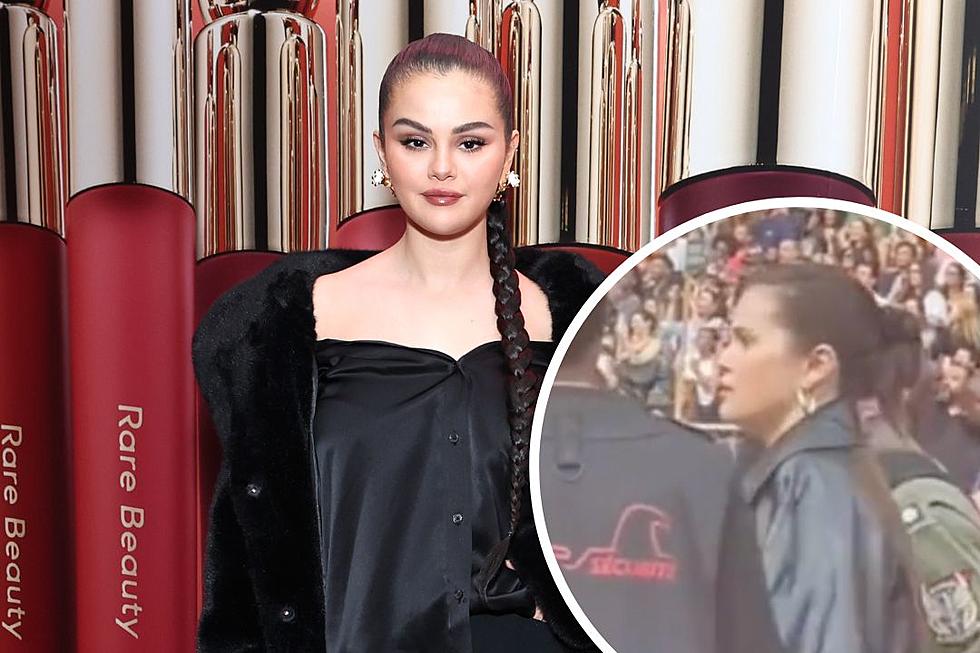 Why Was Selena Gomez Yelling at a Security Guard During Beyonce's 'Renaissance' Tour?
@speedsreacts via TikTok
Selena Gomez was caught on camera seemingly yelling at a security guard during Beyoncé's Paris tour stop at Stade de France on Friday night, May 26.
A fan captured the tense encounter, and the video quickly went viral on Twitter and TikTok, with many fans theorizing as to why the altercation occurred.
The Only Murders in the Building actor wore a long black leather trench coat and a slicked-back bun as she appeared visibly angry over something after arriving at the concert.
READ MORE: Francia Raisa Says Selena Gomez Wouldn't Condone Fans' Bullying
Some fans believe that the argument was due to the security guard allegedly being too rough with fans who were saying hi to Gomez.
"People saying Selena is aggressive when she was blatantly yelling at her bodyguard for not letting her near her fans," one fan tweeted.
Another fan quote-tweeted a since-deleted video from the concert and claimed, "To clarify! Selena was yelling at one of the security guards for mistreating some of the fans who were walking up and talking to her!"
Someone else claimed that she was "defending" fans who wanted to meet her.
"Omg she's yelling djjdkdkdkdd do you know how bad you have to f--- up to piss Selena kill them with kindness Gomez off," one person tweeted.
However, on the other hand, some fans speculated that Gomez's anger was actually due to her late arrival at the show.
"The person that recorded it said that [Selena defending fans] wasn't true at all. There were no fans around in the video. The person that recorded it just said she was mad because the show was getting ready to start, and she had just gotten there, was running late, and wasn't at her seat," an anonymous fan alleged via Instagram gossip account DeuxMoi.
Someone else tweeted, "Selena Gomez being filmed yelling at staff at a Beyoncé concert because SHE arrived late is so funny to me because yall really made up a version of her in yall's heads that doesn't exist lmao."
Another fan called Gomez a "Karen" in a tweet about the argument.
While the real reason for the altercation remains unclear, Gomez was spotted elsewhere during the night happily greeting fans.
The Beyoncé show was a star-studded event that also saw Kris Jenner, Lenny Kravitz, and Natalie Portman in attendance for the "CUFF IT" singer's City of Love tour stop.
Plus, the concert was made extra special by the presence of Queen Bey's kids in the luxury box and her oldest daughter Blue Ivy's surprise performance during "MY POWER."
Celebrities Who Are Supposedly Rude to Fans