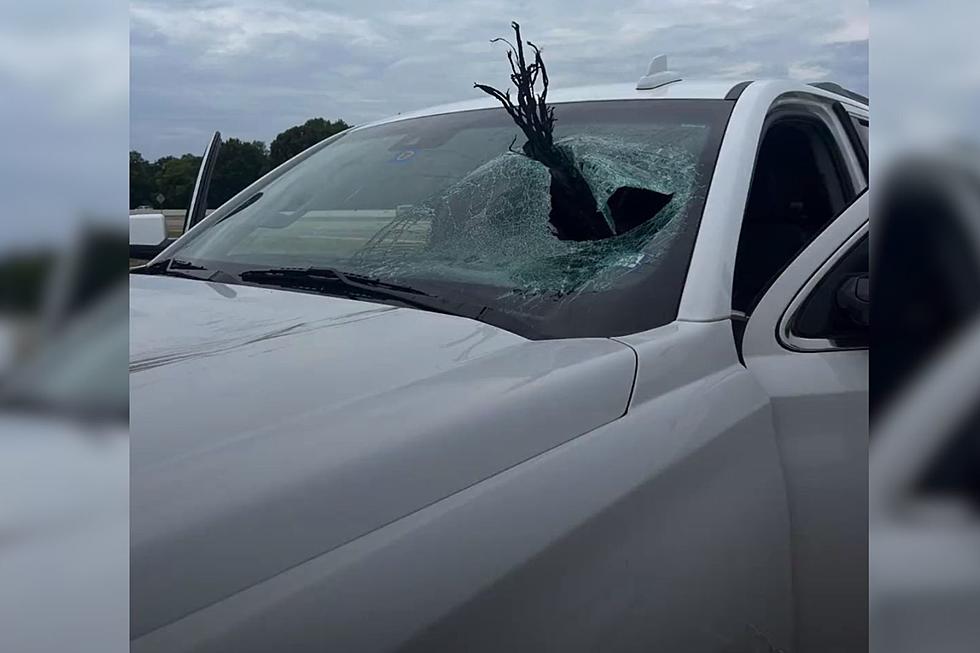 Unbelievable: Texas Woman Survives Tire Tread Windshield Puncture
Twitter
In a harrowing incident that will leave you on the edge of your seat, a courageous woman from Texas recently survived a spine-chilling encounter with a tire tread that pierced through her windshield.
Oh, hold on tight, folks! We've got a thrilling tale for you. Picture this: Jenny Pearson, a brave warrior, embarks on a treacherous journey with her innocent daughter to the land of summer camps. Little did she know that danger was lurking just around the corner. Dun dun dun!
A sedan in front of Jenny's car suddenly decides to show off its swerving skills.  In the process, it miraculously manages to clip a tire tread that was casually chilling on the road.
So Scary
As fate would have it, this mischievous tire tread, tired of its stationary existence, launches itself through Jenny's windshield.
Lucky Break
But fear not, dear readers, for our heroine and her daughter emerge from this calamity with a few cuts and bruises but otherwise unharmed. They manage to pull themselves together and locate the nearest exit. Enter Caleb Smalling, the knight in shining armor, who just so happens to be the owner of Big Boys Auto Glass. Talk about a lucky break!
Holy Trinity
He instantly knows exactly which windshield Jenny needs and rushes off to fetch it from his conveniently located nearby home. But Caleb's generosity doesn't stop there, folks. He returns with the holy trinity of goodwill: the windshield, refreshing beverages, and Band-Aids. Who needs a superhero when you have Caleb Smalling, the windshield guru? Cue the inspirational background music!
Good Deed Doer
Now, prepare yourselves for the grand finale, where Caleb, the guardian angel, humbly declines any form of payment. Why, you ask? Well, he's been having heart-to-heart conversations with God while repairing windshields, of course! Payment through Venmo? Nah. He's on a spiritual high and believes in the power of good deeds.  Check out the video for yourself below.  
Top Ten Trashiest Towns in Texas
Time to take out the trash or show off the trash of Texas. Check out the top ten below.
(All crime statistics were pulled from
www.neighborhoodscout.com
based on each individual town. See editor's note for Lufkin, Texas.)
10 Must-Try Food Stops, From Houston, TX to Dallas, TX
The Best Hidden Gems in Texas