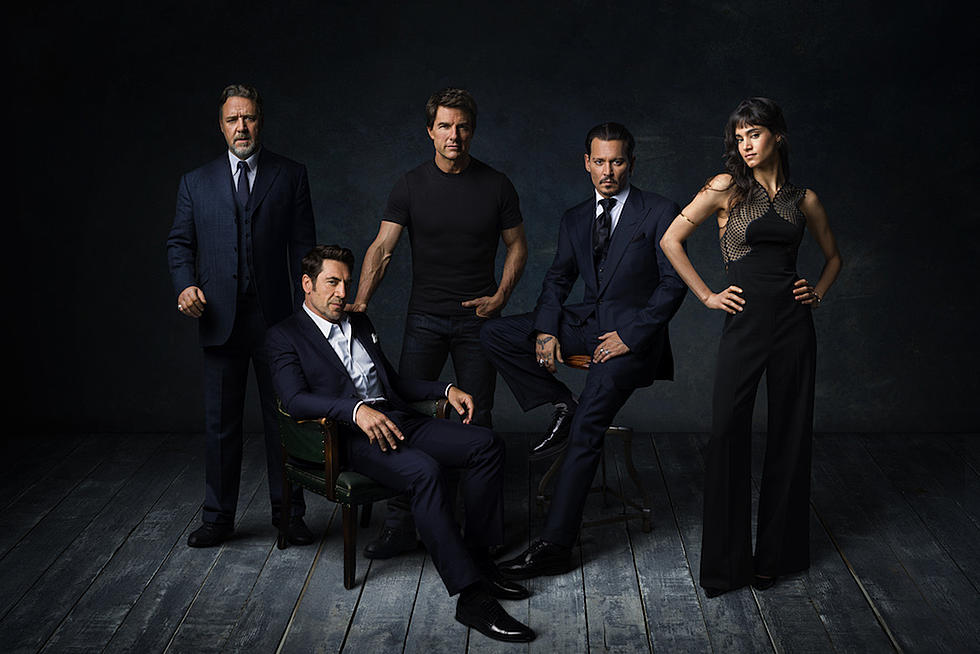 Universal's Dark Monster-verse Might Be Dead After Just One Movie
Universal
Remember back in May – just a mere six months ago – when Universal announced a massive cinematic monster universe, complete with the above cast photo featuring Sofia Boutella and a bunch of other A-list dudes? Welp, that monster just lost its pulse.
A new piece from The Hollywood Reporter reveals that writer-directors Alex Kurtzman and Chris Morgan, who the studio hired to spearhead their multi-franchise cinematic universe, have reportedly departed for other projects. Kurtzman, who helmed the box office and critical bomb that was the Tom Cruise-led The Mummy reboot, has left Universal to focus on his multi-project executive producing deal with CBS, including his work on Star Trek: Discovery, while Morgan is returning his sights to the Fast and Furious franchise and penning the Dwayne Johnson-Jason Statham spinoff. But their departure isn't all that surprising, considering the studio's decision to postpone Bill Condon's Bride of Frankenstein last month, expected to be the second picture in the new monster-verse. That film's February 2019 release date was nixed reportedly due to problems with the script, and while Condon is still said to be on board (if the movie ever does happen), Angelina Jolie, previously in talks as the titular bride, is no longer involved.
After Kurtzman's Mummy reboot earned a meager $409 million worldwide, of which only $80 million was raked in stateside – and mind you, the movie cost over $125 million, not including a hefty marketing budget – things were looking real dark for the studio's Dark Universe. You don't need a critic to tell you that the Cruise vehicle was hardly a promising introduction to an entire franchise of interconnected movies (but if you do, here's our review). The Mummy was supposed to be the foundation for the cinematic universe to come, including a remake of The Invisible Man starring Johnny Depp, Condon's Bride of Frankenstein, starring Javier Bardem as the monster (no word on whether he's still involved), and remakes of Creature from the Black Lagoon and Van Helsing previously said to be in the works. So with the foundation to a new franchise dead on arrival, and the follow-up pulled from the schedule, how does Universal proceed?
The studio has a few ideas, and it doesn't sound like they've entirely given up on rebooting their classic monster movies just yet. In a statement to THR, Universal production president Peter Cramer said the studio is opting to take their sweet sweet time to get it right:
We've learned many lessons throughout the creative process on Dark Universe so far, and we are viewing these titles as filmmaker-driven vehicles, each with their own distinct vision. We are not rushing to meet a release date and will move forward with these films when we feel they are the best versions of themselves.
"Filmmaker-driven vehicles" is a promising phrase. As the THR report notes, it suggests Universal could develop their reboots as distinct one-offs helmed by high-profile filmmakers, and less so as connected puzzle pieces under a mega franchise umbrella. Modern day revamps of classic monster movies could be potentially awesome if gifted to the right filmmakers, and most importantly, if the studio actually enables those filmmakers to carry out their vision, not subscribe to the studio's formulas.
As recent deviations from massive franchises' show, individuality and a commitment to a distinct style and tone with well-known properties is a win, for both audiences and critics. Just look at Patty Jenkins' Wonder Woman, which breathed a wave of fresh air into the dark and moody DCEU, or Taika Waititi's Thor: Ragnarok, a delightful electric jolt to a character grown tedious, and even Gareth Edwards' Rogue One, which turned a Star Wars movie into a visceral, enthralling war film.
Films like those prove you can still bring newness and creativity to existing properties, and a filmmaker's voice doesn't need to be sacrificed for coming attractions. Warner Bros. recently said they were stepping away from an excessive focus on continuity in the DCEU to prioritize individual films, and Universal's best shot at resurrecting their slowly dying monster-verse might be a step in the same direction. Give the reboots to promising filmmakers – horror producer Jason Blum's name has reportedly come up at the studio, which would be a totally brilliant idea – and allow them to revamp the monsters. Until we hear more, consider the Dark Universe mummified.
Gallery – Ranking the Best Tom Cruise Action Movies: