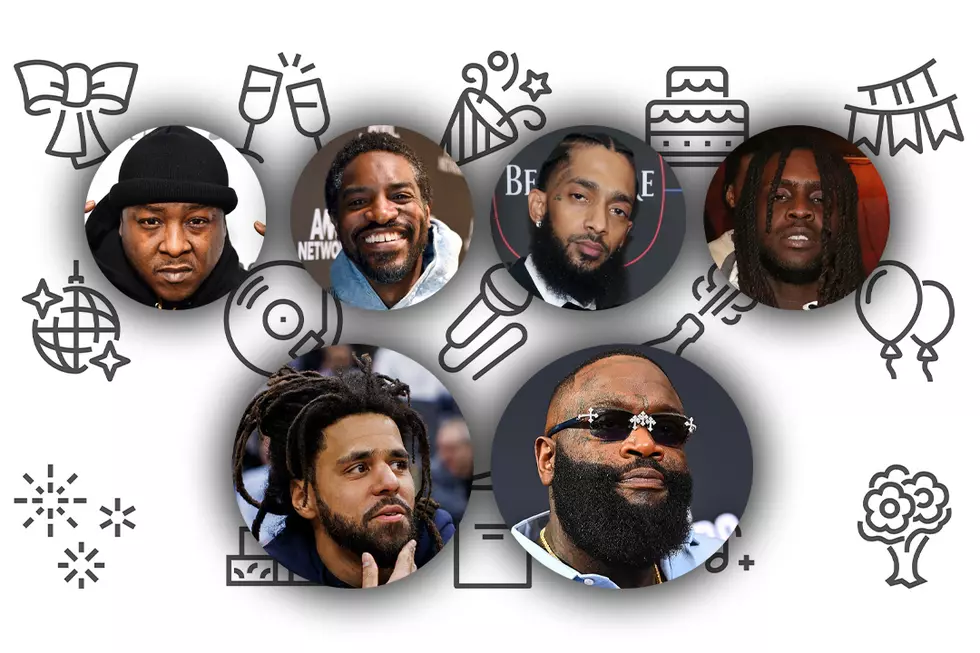 49 Rappers Who Share the Same Birthdays
Da Vooda/Theo Wargo/Andrew Toth/Randy Shropshire/Johnny Nunez/Cole Burston/Paras Griffin/Getty Images (7)
The number of rappers that just so happen to share the same birthdays is actually very surprising. Even with there being only 365 days in a year versus an innumerable number of rappers who have rocked a mic over the course of hip-hop's 50 years in existence, one can't help but get a kick out of what would otherwise be a common coincidence.
While different generations obviously come along with rappers of all different age ranges, there are a few rappers who share the exact same birth date in the same year. Jadakiss and Andr´e 3000, for example, two of the most revered lyricists of all time, were both born on May 27, 1975, possibly even just minutes apart.
Some rhymers who are each born on the same day offer up completely different types of musical styles and equally opposite personalities up against their shared birthday counterparts. Travis Scott and Lloyd Banks were born on the same day, April 30, exactly ten years apart in 1992 and 1982, respectively. While Travis is known globally for his often-trippy rap-crooner style and his innate ability to turn up a massive crowd, Banks carries a much more subdued demeanor and has been referred to in many circles as the "Punchline King."
On the flip side, some artists in the rap game who are considered "birthday twins" also share certain traits with each other that display undeniable similarities that can possibly be attributed to when they were born. Will Smith, Childish Gambino and T.I. were all born on September 25 and as it turns out, all three rappers have found success in the music and film worlds simultaneously. There must be something about the Libra sign that makes for great multi-hyphenated entertainers.
Here, XXL takes a look at many rappers who share the same birthdays.
See Rappers Who Share the Same Birthdays