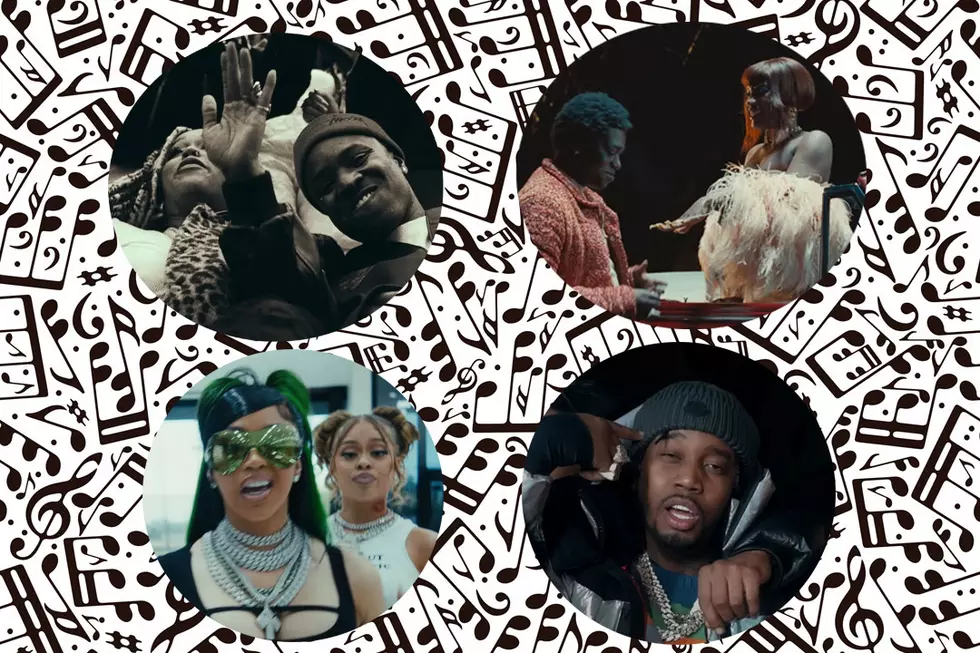 Here Are the Best New Hip-Hop Songs That Sample Other Rap Songs From the 2000s
Idk/Doechii/Latto/Fivio Foreign/YouTube (3)/ Sylverarts/iStock/Getty Images Plus
Sampling is one of the most powerful cheat codes in rap music—if done correctly. Not only does it possess the power to fuse sonics and feelings, but it also does an efficient job of merging generations of sound. Now that rap is in its sixth decade, the 2000s is a time period that's highly popularized when it comes to sampling. That's been on full display in 2023 moer than ever, a year where lauded tracks from Ice Spice, Latto and more have drawn inspiration from that era.
Ice Spice has been slaying the game as of late and her right-hand collaborator, producer RIOTUSA, is owed some thanks there, too. He was the sole producer on her debut EP, Like…?, which came out in January. One of the undisputed gems on there is the Lil Tjay-assisted "Gangsta Boo." All parties involved snapped, especially RIOT, who turned Diddy's swaggy smash "I Need A Girl, Pt. 2" from 2002 into a Bronx drill paradigm. On top of that, Fivio Foreign's "Notice Me" featuring up-and-comers Tata, Jenn Carter and Kyle Richh is another beam in the sample drill wave. Rewinding back to 2005, it pulls from G-Unit's immortal bop "Smile" from that year.
Interpolations are of course different but still valid in this conversation. Latto pressed another hit on wax when she released "Put It On Da Floor" around the time she took Coachella by storm in April, ahead of the remix with Cardi B. Anyone from the bottom of the map put two and two together that her post-chorus lyrics, "I don't know, what y'all been told/Bet yo' mans know, if you don't? What's happenin'" pays homage to the same bars in D4L's "I'm Da Man" from 2005. Speaking of the South, Doechii's highly streamed track "What It Is (Block Boy)" featuring Kodak Black has a similar formula, threading in lyrics from Trillville and Lil Scrappy's 2004 song "Some Cut."
It doesn't stop there. Below is a full list of the best songs from this year that in some way incorporate some classic rap tracks from the 2000s.
"What It Is (Block Boy)"

Doechill featuring Kodak Black

Sampled Song: Trillville's "Some Cut" featuring Cutty (2004)

"Ain't Gonna Answer"

NLE Choppa featuring Lil Wayne

Sampled Song: Birdman and Lil Wayne's "Stuntin' Like My Daddy" (2009)

"Geekaleek"

OhGeesy featuring Cash Kidd

Sampled Song: Petey Pablo's "Freek-A-Leek" (2003)

"Smile"

Fivio Foreign featuring Tata, Jenn Carter and Kyle Richh

Sampled Song: G-Unit's "Smile" (2003)

"Silver Tooth"

Armani White featuring A$AP Ferg

Sampled Song: Lil Bow Wow's "Take Ya Home" (2001)

"Heroes"

Macklemore featuring DJ Premier

Sampled Song: Black Eyed Peas "BEP Empire" (2000)

"Gangsta Boo"

Ice Spice featuring Lil Tjay

Sampled Song: Diddy's "I Need A Girl, Pt. 2" featuring Loon, Ginuwine and Mario Winans (2002)

"Pinot Noir"

IDK featuring Saucy Santana and Jucee Froot

Sampled Song: Khia's "My Neck, My Back (Lick It)" (2001)

"Put It On Da Floor Again"

Latto featuring Cardi B

Sampled Song: D4L's "I'm Da Man" (2005)

"Adonis Interlude (The Montage)"

Dreamville and J. Cole

Sampled Song: Jay-Z's "The Watcher 2" featuring Dr. Dre, Rakim and Truth Hurts (2002)

"Letstalkaboutit"

Aminé and Kaytranada featuring Freddie Gibbs

Sampled Song: Jermaine Dupri's "Let's Talk About It" featuring Clipse (2002)

Sampled Song: T.I.'s "24's (2003)

Sampled Song: Ludacris' "Move B****" featuring Mystikal and I-20 (2001)

Sampled Song: Ludacris' "Area Codes" featuring Nate Dogg (2001)

"Let's Do It"

DD Osama featuring NLE Choppa

Sampled Song: Waka Flocka's "O Let's Do It" featuring Cap (2009)