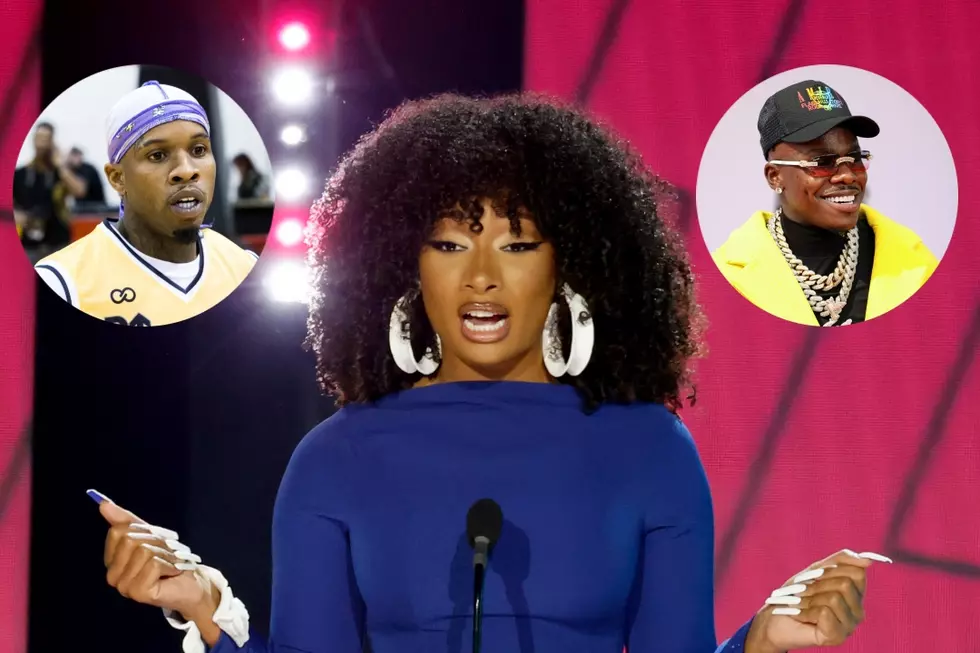 Tory Lanez, DaBaby Attempted to Rush the Stage at Megan Thee Stallion's 2021 Rolling Loud Miami Set, Prosecutors Say
Greg Doherty/Jason Kempin/Rich Fury/Getty Images (3)
Tory Lanez and DaBaby planned to bum rush the stage during Megan Thee Stallion's 2021 Rolling Loud Miami set, according to prosecutors in the Tory shooting case.
On Tuesday (June 6), prosecutors in the Tory Lanez shooting case filed a memorandum to Los Angeles County Superior Court Judge David Herriford with their sentencing recommendation for the rap star, who is set to learn his fate next week. In the 12-page document, prosecutors Kathy Ta and Alexander Bott lay out the reasons they are suggesting Tory recieve 13 years in prison without probation, pointing out all his transgressions during pre and post trial. In one instance, they claim Tory Lanez, who in December of 2022 was found guilty of shooting Megan, and DaBaby attempted to make a spectacle by disrupting Megan's performance at the 2021 Rolling Loud Miami Festival.
Prosecutors Claims Tory Lanez and DaBaby Tried to Crash Megan's Show
"On July 25, 2021, [Megan Thee Stallion] performed at the Rolling Loud Festival in Miami, Florida as a scheduled performer," the prosecution memo reads. "Scheduled to perform immediately after [Megan Thee Stallion] was Jonathan Lyndale Kirk, professionally known as 'DaBaby.' This was a highly publicized event, attended by roughly 75,000 people. [Tory Lanez] was not a scheduled performer. During [Megan Thee Stallion's] performance, [Tory Lanez] went through security clearance and entered the green room. These areas were within 100 yards of the stage where [Megan Thee Stallion] was performing, in violation of the protective order."
The memo continues: "It was also brought to [Megan Thee Stallion's] attention that [Tory Lanez] and DaBaby attempted to rush the stage during her performance. In no way was [Megan Thee Stallion] previously aware of nor did she consent to [Tory Lanez's] presence at the venue when she would be performing. [Megan Thee Stallion] was incredibly fearful after discovering [Tory Lanez] was at the venue and within the 100 prohibited yards."
The Result of the Incident
While Tory Lanez and DaBaby were not successful in their alleged plot, Baby brought out Tory for his set. Tory's appearance at the show prompted a violation of Megan's protective order against him. As a result, a judge increased Tory's bail $250,000.
A month prior, DaBaby joined Tory Lanez on the song "Skat," which sparked beef between Megan and DaBaby, who previously had a working relationship. Last September, DaBaby claimed he was sleeping with Megan around the same time as Tory Lanez on the track "Boogeyman." 
See Wild Rap Beefs That'll Probably Never Be Resolved
Pusha-T and Drake, YG and 6ix9ine, and more.