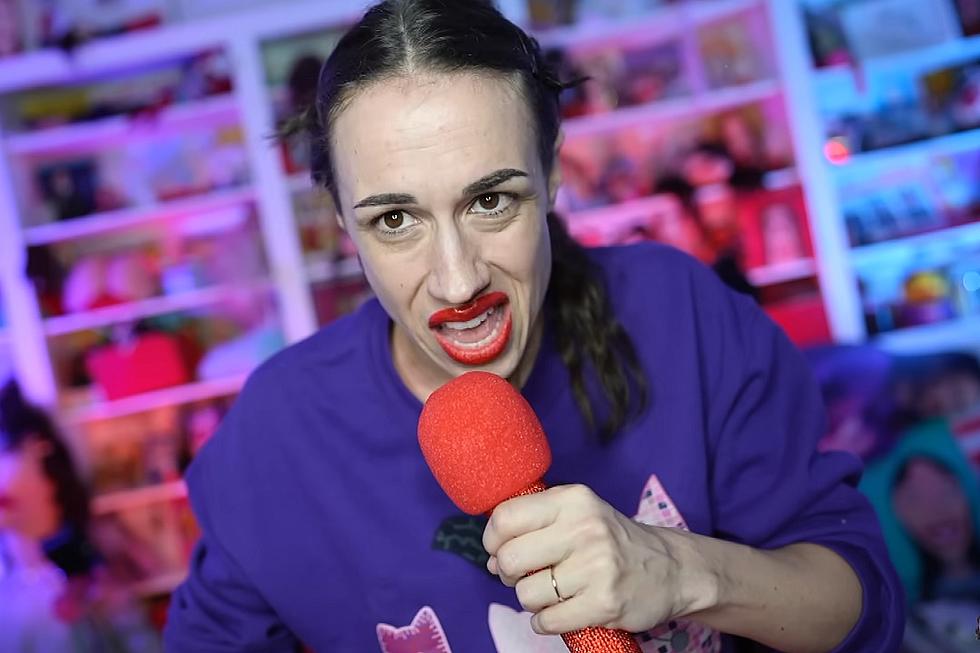 Colleen Ballinger Allegations Explained: Miranda Sings YouTube Star Accused of 'Grooming' Young Fan
YouTube
Colleen Ballinger, the YouTube content creator famous for her grating Miranda Sings character, is under fire following a series of bombshell allegations from a former fan.
In a scathing new YouTube video, social media content realtor Adam McIntyre, who started a friendship with Colleen when he was only 13, claims that Colleen "groomed" and "used" him when he was a minor between 2017 and 2020.
READ MORE: James Charles Responds to Underage Grooming Allegations
Adam's allegations include Colleen inappropriately communicating with minors about sexual positions and more; manipulating him into performing free labor for her; gaslighting, bullying and more.
Adam, who first came forward with similar allegations in 2020 but was largely silenced by Colleen's fans, was recently inspired to speak out again following another YouTube video exposing Colleen and her fandom.
Warning: Article below contains graphic language, sexual descriptions and grooming details that may be triggering for some.
Who Is Adam McIntyre?
Adam McIntyre is a 20-year-old social media influencer and YouTube star who has amassed more than 206,000 subscribers on the platform.
On Wednesday (June 7), Adam posted a YouTube video digging into his former relationship with Colleen Ballinger, allegedly exposing her for "grooming," "using" and "manipulating" him when he was just a teenager.
Adam says their one-sided, inappropriate relationship began when he was just 13 and Colleen was already in her 30s, and that he acted as an "unpaid intern" for the YouTube phenom for four years.
His video includes numerous screenshots of alleged text messages, group chats, DMs and other media receipts including audio clips.
This isn't the first time Adam has come forward with allegations about Colleen.
In 2020, when he was 17, he posted a YouTube video titled "colleen ballinger, stop lying." The video detailed how Colleen allegedly sent him lingerie when he was underage. At the time, Colleen responded to Adam's allegations in a video called "addressing everything," where she claimed the lingerie gift was just a joke.
Colleen Allegedly Had a Group Chat Where She Messaged Minors Inappropriately
One of Adam's claims is that when he and other fans were just teenagers, Colleen, who was in her 30s at the time, had a private group chat where she would send them sexually inappropriate messages.
In one alleged text, Colleen appears to ask Adam, who was around 15 at the time, if he was a virgin. She also allegedly asked him what his favorite sexual positions were, as well as requested photos of his butt.
Adam also claims that, in the group chat, Colleen asked a group of teenage girls to share intimate, graphic details about the first time they menstruated.
"Tell me all the thoughts you had when you first got your periods. Please and thank you. Example: I thought I s--t myself cuz the blood was so dark in my underwear," Colleen allegedly wrote.
Colleen Allegedly Made Fun of Fans' Mental Health
Adam claims Colleen made fun of her fans' mental health and allegedly joked about certain fans' dedication to her, including privately mocking one fan who had gotten a tattoo of her name on their arm. Adam says they used to jokingly draw the tattoo design with a Sharpie to make fun of it.
Adam also says that Colleen would often mock fans after taking photos with them, but would then share the photos publicly while acting like she loved them.
Adam Says Colleen Would Often Body Check Him for Being 'Skinny'
Adam says Colleen would often "body check" him. Healthline describes body checking as "examining, measuring, or monitoring something related to your body — usually your weight, size, or shape," which can "become problematic if the behavior is compulsive and interferes with your ability to go about your daily life."
In one instance, Adam says he sent a photo of him at the beach to Colleen via Snapchat, and that she specifically complimented the parts of his body that were "skinny," which eventually resulted in Adam developing self-image issues.
He Also Says She Would 'Love Bomb' Him to Make Him Feel Special
Adam claims that the famous YouTube would often "love bomb" him with praise and compliments to make him feel special, so she could more easily use and manipulate him.
Around the 30-minute mark in his video, Adam shares alleged text messages and DMs Colleen sent him calling him her "sunflower, my happiness, my everything," as well as applauding the free work he would do for her on social media, which included tweeting on her behalf and defending her from haters and criticism.
"You have a good work ethic, it will take you far," Colleen appears to tell Adam in one private message.
Colleen Allegedly Talked to Adam About Intimate Divorce Details
Colleen also allegedly discussed intimate, inappropriate details about her relationship with and divorce from ex-husband Joshua Evans with Adam and the other teens in their private group chat.
In one message, Colleen details being "screamed at every day for hours" and being told that she is a "piece of sh-t" by her ex. In another alleged message send to her underage fans, she calls Josh "emotionally abusive" and describes herself as "brave" for leaving her marriage.
Adam Says Colleen Abandoned Him in an Unfamiliar City
Adam, who lives in Ireland, claims that Colleen invited him to visit her during a trip to Dublin, where she performed in 2018. Adam was around 14 years old at the time.
After making the trip work around his school schedule and asking his parents to drive him to Dublin, which was a four-hour car ride, Colleen allegedly kept changing their planned meeting spot, resulting in Adam getting lost and behind late. She also appeared annoyed that his parents would be with him.
He says he felt "abandoned in a city I did not know" because he and Colleen only got to hang out for a few minutes before she left him, despite his long journey to see her.
Adam Was Responsible for Viral Miranda Sings Content but Never Got Credit
Adam claims that when Colleen was about to "give up on Miranda [Sings]," she asked him to help her with her channel, which he did by coming up with video ideas and ghost writing for the character on Twitter.
He says in many instances Miranda Sings went "viral" because of content he created or devised, and that Colleen gave him her Twitter password and told him to "go crazy" handling the social media account.
Adam also says that Colleen promised to employ him once he graduated college. In one alleged message, Colleen tells Adam, "Right now I am considering you my social media intern. But if things go well, we can talk about hiring you part-time for an hourly rate. I don't like using your creativity and insight for free."
He Says Colleen Scapegoated Him When a Problematic Tweet Backfired
Adam alleges that when a tweet he posted on Miranda Sings' behalf, which Colleen approved before he posted, Colleen scapegoated the teen and guilt tripped him.
In 2020, the Miranda Sings Twitter account posted a satirical "coming out" tweet promising a big announcement, which in a later video was revealed as Miranda Sings simply admitting she was a Meghan Trainor fan.
Many fans accused Colleen of queer baiting and mocking the LGBTQ+ community.
Meanwhile, Colleen allegedly gaslit Adam, telling him, "I'm so glad everything is doing well, but even though you have the password, I need to approve everything you post to avoid problems."
Adam Says Colleen Cut Him Off, Turned on Him After She Got Canceled Online
When the "coming out" controversy didn't die down, Colleen allegedly turned on Adam and continued to guilt trip him in private messages, at one point writing, "Queerbaiting is not a joke. I have upset so many people. I am near tears."
Adam says Colleen told him she would "never post something like that," even though she allegedly approved the joke and the tweet before he posted it on her behalf.
After she was canceled online, Colleen allegedly ghosted Adam and began talking about him and spreading lies about the teen behind his back, which he eventually found out and confronted her about.
Adam writes in one message:
Being told by multiple people that you and [Colleen's friend] Kory have been saying I run a hate account for people that support you. Which is really disappointing that your mind goes to that place. I am aware and so are my parents and I have screenshots of everything from the past few weeks that Kory has said about me and in relation to you about me in these chats and everything else from before. But never thought you'd stoop to that level especially due to the 17 year age gap. Talk to me in 16 years if a 33 year old takes advantage of [Colleen's baby] Flynn the way you have then s--t talks them on Twitter.
Colleen allegedly replies:
What are you even talking about? What does Flynn have to do with anything? How dare you bring my son into your drama. I didn't say anything about you. I've never been anything but nice to you. I am not going to argue with you or talk smack with you. I wish you well and have always appreciated your support but bringing my son into your drama is way too far.
When Adam's parents became aware of the drama, Adam's mom messaged Colleen through his account and told the YouTuber to "never speak my son's name again."
It appears Colleen never spoke to Adam again after that.
Colleen has not yet responded to Adam's latest allegations as of publishing.
Colleen Ballinger Is Now Being Called Out for Grooming, Manipulating Fans
Following Adam's YouTube video exposé, many people, including other former fans of Colleen and Miranda Sings, have come forward on social media to show their support and criticize the YouTube star for her alleged inappropriate behavior, as well as share similar stories.
See reactions to Adam McIntyre's allegations about Colleen Ballinger, below:
Celebrities Accused of Terrible Crimes