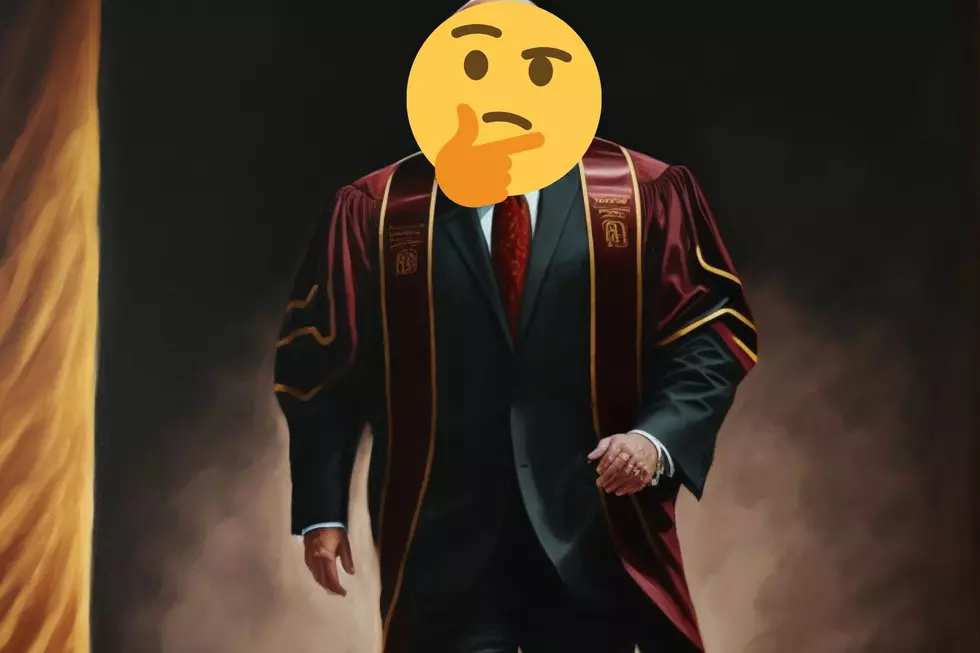 This Famous Talk Show Host Graduated College From a Small Texas Town
Midjourney AI/Canva
One of the most famous, well-respected, and culturally relevant celebrities the world has ever known went to college right here at Midwestern State University.
"Who is it, Eric? I'm sitting on pins and needles over here," said nobody. The titan of daytime talk, Oprah's illegitimate offspring, the Macho Man of mustaches himself:
Dr. Phil McGraw
That's right, the man with the shiniest of heads graduated with a B.A. in psychology from MSU Texas in 1975.  This man could have been cruising Kemp looking for shenanigans and love for all we know!
He originally attended the University of Tulsa on a football scholarship, but later transferred to MSU Texas to pursue psychology, most likely due to his father having established a private psychology practice in Wichita Falls.
Which got me thinking.  What would Dr. Phil spend a typical day doing in Wichita Falls if he were going to school here today?  Let's say a mistake was made back in 1975 and it turns out he was actually 3 credits shy of getting his degree, therefore a wacky 80's comedy ensues where he has to go back to school as the rich celebrity he is today.  
9 a.m. Dr. Phil wakes up
Most bazillionaires wake up at 5 a.m. to exercise and start that work day as early as possible. That's why they're successful. I don't really get that feeling from the good doctor.
10 a.m.  Brunch at Taco Darlin
Come on now, this guy isn't having breakfast at Mcdonald's. He wants the good stuff! My man is having Taco Darlin's Loaded Breakfast Tots, which are Tator tots topped with jalapeno gravy, cheddar, bacon and a fried egg.
11 a.m. Mustache grooming at Iron Society
That 'stache is always on point, always impeccable. You know it has to be groomed daily. Stormy and the gals at Iron Society downtown are up to the task.
Noon. Class time baby! 
It's finally time to attend class at MSU Texas to work towards those three final credits in Aero and Astronautical Engineering (I'm assuming).
1-4 p.m. Lunch and homework:
Dr. Phil calls his wife to let her know he'll be going to a quiet place to sit down and have a light lunch and start on his homework.
5 p.m. Nap time.
Time to rest up, because up next:
6 p.m. Red River Brazilian Jiu-jitsu
I know, this one surprised me, too! Turns out Dr. Phil is a man of action.  He spends the next hour rolling around on the mat at Red River Brazillian Jiu-Jitsu.
This is what I imagine it would look like.
8 p.m. Dinner on Karat's Patio
It might be the dead of winter, but Dr. Phil loves his fans!  He's going to sit on that patio and endure the cold just to get some face time with us commoners while he tears through Karat's famous Filet Mignon.
10 p.m. Bed time
Time to get 11 hours of beauty sleep and start over again tomorrow.
Hook 'Em! 7 Celebrity Graduates From University of Texas at Austin
When you think of the University of Texas at Austin, what comes to your mind first? Is it celebrities? Of course, some celebrities are more vocal than others about their alma mater. Matthew McConaughey lets everyone know where he came from, so no surprises there. The actor is also a Professor of Practice at the university's Moody College of Communication, and graduated in 1993 with a Radio/TV/Film degree from UTA.
Aside from McConaughey, you might be surprised at some of the famous people who picked up a degree in the Lone Star State's capital city.
Gallery Credit: Tamme Taylor