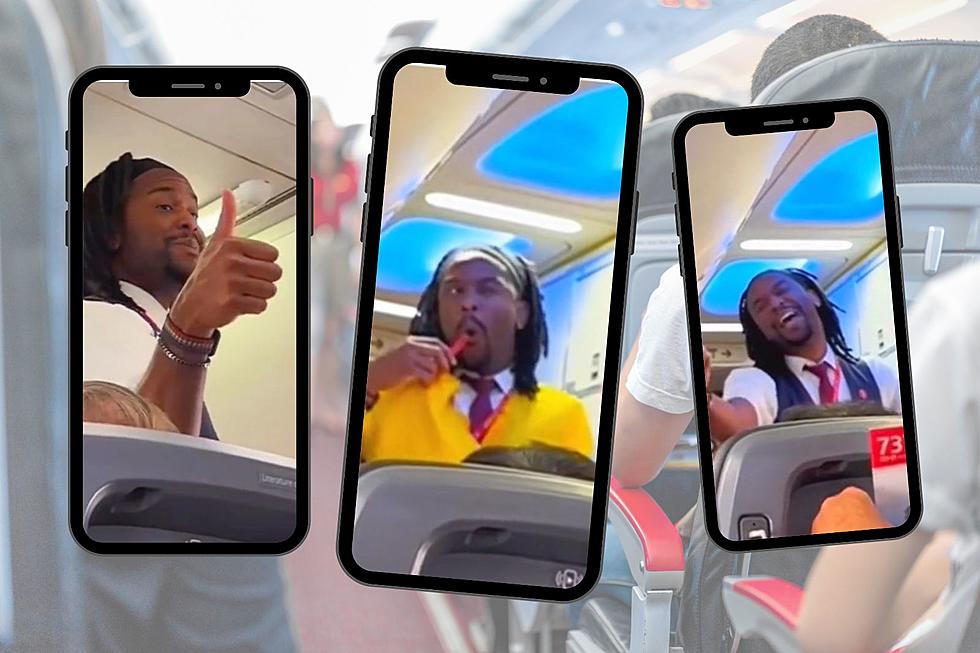 Lip Sync Slay: Fun Flight Attendant on TikTok Nails Safety Briefing
TikTok, Canva
This flight attendant on TikTok just set a higher standard for how we expect our safety briefings to be from now on.
You've probably been on a flight and watched an attendant go over the safety instructions and procedures in the event of an emergency. And by "watched," we mean you probably stared blankly at them while thinking about everything you needed to do when you got to your destination.
Well, this attendant was no plane Jane. In fact, he surely grabbed all of the passengers' attention as he lip-synced the entirety of the instructions perfectly...10/10. The audio played over the speakers, and he slayed the visuals.
See the delightful display in the video below.
It's just perfection. This attendant is flying so high on positivity that it puts the entire plane on cloud nine. We need more of this. Thankfully for TikTok (and the internet) we get to enjoy it too.
There are so many noteworthy moments in this performance that it's hard to pick a favorite. Taking a scroll through the comments section of the video really shows just how much joy the simplest of acts can bring.
Maybe you'll get a fun flight attendant like this one the next time you travel. At least, let's hope so.
Offbeat adventures: Travel to the coolest hidden wonders in every U.S. state
Fuel your offbeat travel dreams.
Stacker
found the coolest hidden wonders in all 50 U.S. states (plus D.C.) using data from
Atlas Obscura
.
[WARNING: Under no circumstances should you enter private or abandoned property. By doing so you risk bodily harm and/or prosecution for trespassing.]
Looking for more places to travel? You'll want to see these hidden gems across the country.
LOOK: 25 must-visit hidden gems from across the US
From secret gardens to underground caves,
Stacker
compiled a list of 25 must-visit hidden gems from across the United States using travel guides, news articles, and company websites.