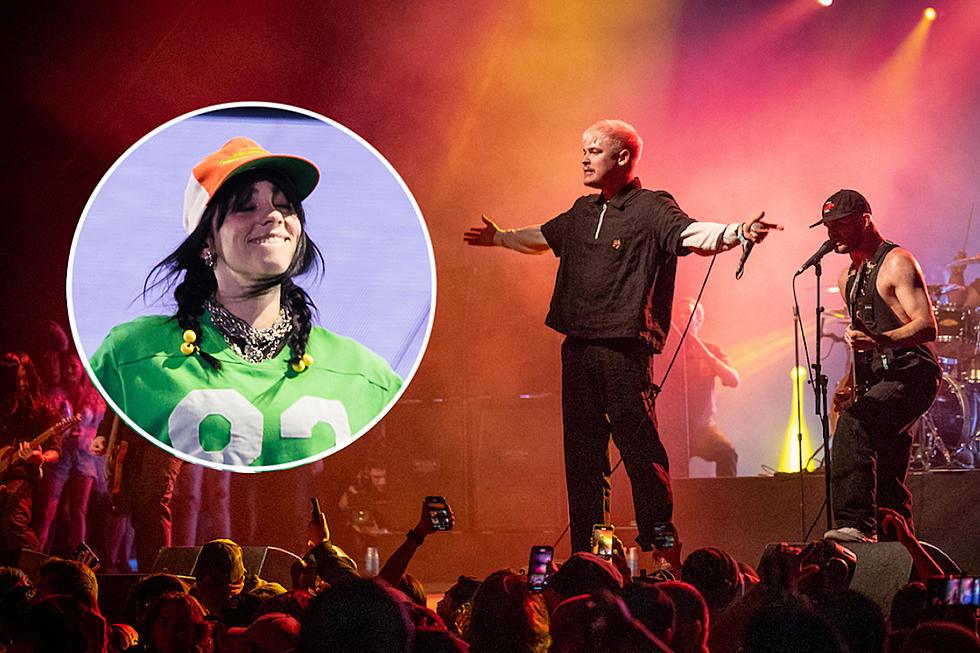 Knocked Loose Turned Coachella Into a Hardcore Show + Billie Eilish Watched
Mauricio Santana / Emma McIntyre, Getty Images
Rock and metal Twitter is going wild for Knocked Loose after the Kentucky metalcore band essentially turned Coachella 2023 into a hardcore show during their set in the California desert on Sunday (April 16). Pop star Billie Eilish also apparently enjoyed their show — she was seemingly captured watching Knocked Loose from the side of the stage.
"SHES SO REAL FOR THIS," Twitter user @hard222swallow enthused of the clip they shared on the social media site that shows Eilish watching the Knocked Loose concert.
See the video toward the bottom of this post.
READ MORE: 10 Most "Metal" Artists That Aren't Metal
While Eilish didn't play Coachella herself this year, she did make a surprise appearance during the hip-hop artist Labyrinth's set this past weekend, as Pitchfork reported. Eilish and Labyrinth recently collaborated on "Never Felt So Alone," released earlier this month.
Knocked Loose Rocked Coachella
During Knocked Loose's set at Coachella 2023, the Bryan Garris-led outfit even managed to ignite a circle pit within the audience, albeit one "from people who looked like they'd never been to a hardcore show before," the website Kill Your Stereo said.
"Howtf does Knocked Loose get circle pits like that without a referee," one observer quipped.
"Influencer babes are stage diving during Knocked Loose's Coachella set," another remarked as they watched the Knocked Loose Coachella livestream on YouTube.
Someone else said, "I love whenever a metal band plays Coachella and everyone loses their fuckin minds but I also always wonder about the kind of people who are either at Coachella specifically for @knockedloose or the ones who are suddenly discovering them."
Check out the fan-captured footage below. And be sure to subscribe to Loudwire's newsletter and download the Loudwire app for more rock and metal news.
Billie Eilish Watches Knocked Loose's Set at Coachella From Side-Stage
Knocked Loose at Coachella 2023
Watch: Most Outrageous Breakdown Callouts Ever
10 Huge Rock + Metal Bands Whose Singer Isn't the Main Lyricist
The lyrics to these bands' songs were mostly written by other members.