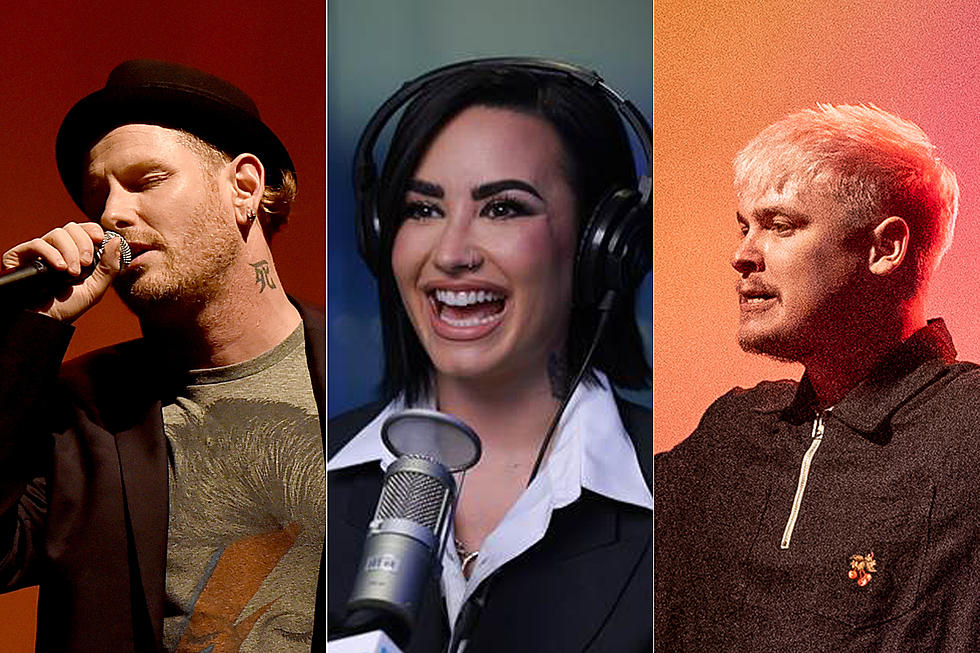 Demi Lovato Revamps Song With Slash, Reveals Two Other Hard Rock Acts She Wants to Work With
Kevin Winter, Getty Images / Maro Hagopian / Emma Mcintyre, Getty Images
Demi Lovato has taken a turn back toward rock with her latest album, and more recently she's been revisiting her older material and giving some of her biggest songs rock makeovers. The latest of these is "Sorry Not Sorry," featuring a guest turn by Slash. And, during a recent interview with SiriusXM's Metal Ambassador Jose Mangin, Lovato shot her shot, revealing two other harder rocking acts that she'd love to work with.
Lovato was speaking with Mangin on the Metal Ambassador podcast when she delved into her love for heavier music and by the end of the chat she was ready to call out a couple of acts she'd really want to collaborate with.
"Someone I've always wanted to work with is Corey Taylor and, you know, obviously working with bands like Knocked Loose would be sick too, so I think it's something that's on my wish list but hopefully I'll have some collaborations for Revamped. We're still working that out though."
Demi Lovato Reveals the Two Hard Rocking Acts She'd Like to Collaborate With
The Revamped album is coming up fast, with a Sept. 15 release scheduled through Island Records. She's already set the table to some extent with updated rock versions of "Heart Attack" and "Cool for the Summer" coming in advance of the new Slash-guesting version of "Sorry Not Sorry." "Slash is an iconic artist who I've been a fan of for years, it's an absolute honor to have such a legend like him on the rock version of 'Sorry Not Sorry,'" said Lovato of their pairing.
Digging deeper into her love of heavy music, Lovato credited an old boyfriend who got her into metal at a young age. He even took her to a Dimmu Borgir-Unearth concert. She recalled to Mangin, "So I was 14 at that show and I was probably about 90 pounds and I decided to go into the middle of the crowd and so I'm in the middle of the crowd and all of a sudden people start moshing like really moshing and I had been in pits before that weren't as intense, but this was so intense and I was like, 'I gotta get out of here,' so I literally, I just jumped up and crowd surfed to the front of the stage and that was my first time crowd surfing and I was like, 'I lost a shoe.' It was so much fun.'"
READ MORE: Demi Lovato Recommended a Sick Deathcore Band to Nita Strauss
She also added that Job for a Cowboy was one of her favorite metal bands, noting, "'Entombment of a Machine' is what started me on Job for a Cowboy and I just, there was something just like the guitar riffs, the scream in that song when it hits really hard. It was the first song that I realized metal music, in a way, can be catchy without being a pop song because, you listen for the guitar riffs, you listen for that certain part of the song, the drop and yeah. I just fell in love with it and that song is what did it for me."
As stated, Lovato is reimagining her classic pop singles as rock versions, noting, "Creating this project has been incredibly fun and allowed me to express my passion for rock music in a new way, and I feel so much closer to my older music because of it. I can't wait for everyone to hear more!" The Revamped album is due Sept. 15 with pre-orders and pre-saves currently underway.
Demi Lovato Featuring Slash, "Sorry, Not Sorry" (Rock Version)
11 Ways Metal + Pop Really Aren't That Different
Pop and metal have more similarities than you might think.