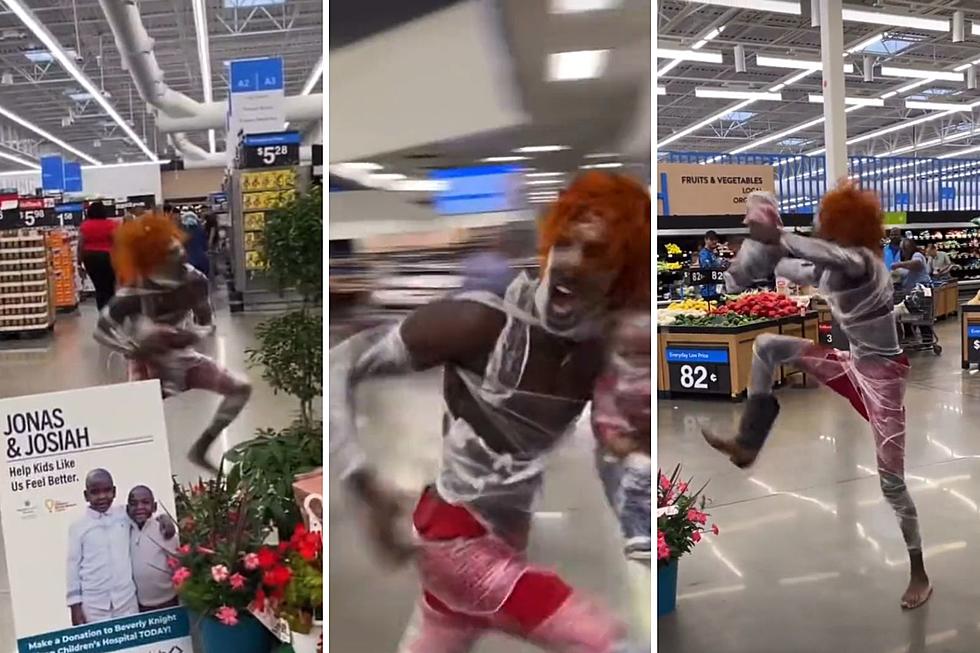 Plastic-Wrapped Man Creates Havoc at Texas Walmart
Twitter/Canva
Plastic-Wrapped Man Unleashes Chaos at Texas Walmart: A Tale of Epic Proportions
Hold on to your shopping carts, folks, because a bizarre incident unfolded at a Houston, Texas Walmart that left customers and employees stunned.
In a scene straight out of a Hollywood movie, a mysterious plastic-wrapped man wreaked havoc in the aisles, turning an ordinary shopping trip into a day that no one will forget anytime soon.
Join us as we delve into the gripping details of this unbelievable incident that unfolded in the heart of Texas!
The Plastic-Wrapped Enigma
We've tried our best to figure out what this man is saying.  Something about "plastic and brand new, put it on the floor." That's all we can make out.  Leave us a comment if you can understand anything else, please.
The Boot
The boot on one foot is what does it for us. This rascal seems like he would be a lot of fun at parties.
What's in That Hand?
We're pretty sure whatever he's shouting has something to do with whatever he's holding in his left hand.  Once again, we can't figure it out, please let us know if you can.
The Hair.
The bright, clown-like hair finishes off his ensemble nicely. After stomping and yelling for a while.  The man boot scoots off into the sunset.  Check out the video for yourself below.
Top Ten Trashiest Towns in Texas
Time to take out the trash or show off the trash of Texas. Check out the top ten below.
(All crime statistics were pulled from
www.neighborhoodscout.com
based on each individual town. See editor's note for Lufkin, Texas.)
10 Must-Try Food Stops, From Houston, TX to Dallas, TX
The Best Hidden Gems in Texas