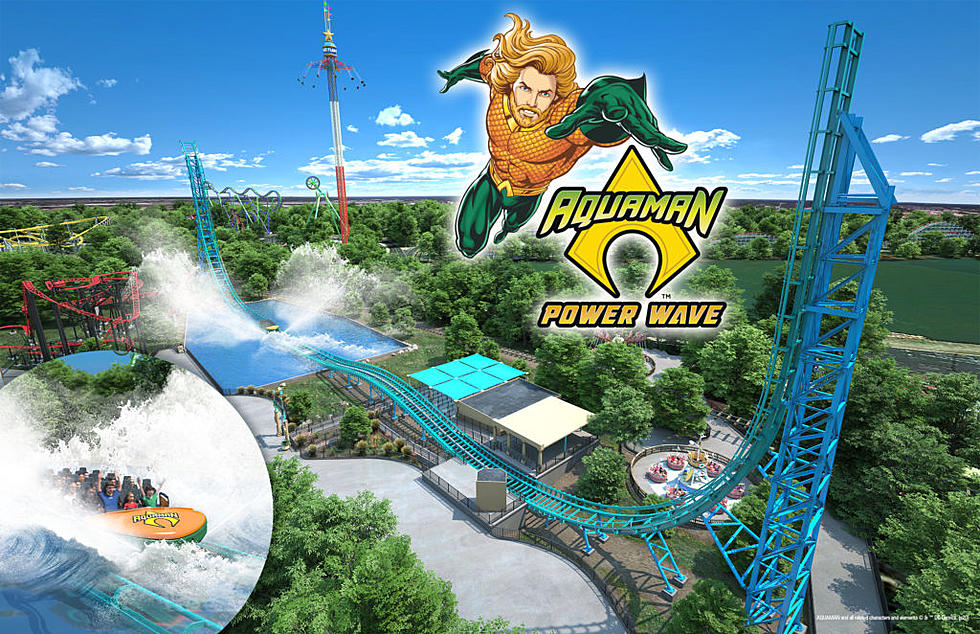 Six Flags Over Texas Set to Debut First of Its Kind Water Coaster
Six Flags Over Texas
Six Flags Over Texas is about to get even cooler.
I have a confession to make – I used to be terrified of roller coasters. But after my buddies persuaded me to get on the Texas Giant with them back in the 90s, I was hooked. While I still get nervous as the train makes its initial climb toward the top of the tracks, I've learned to embrace the adrenaline.
So, I'm looking forward to the new water coaster that will soon make its debut.
Six Flags Over Texas has announced the new "Aquaman: Power Wave" will open on March 11, 2023, right on time for spring breakers to give it a try.
The water coaster is the first of its kind. It will suspend riders in the air at a 90° angle before launching them backward across over 700 feet of tracks, much of which is over water. It will then repeat the process, sending riders forward across the tracks. The ride ends with a splashdown into a giant wave.
Here's a word to the wise if you've never ridden "El Aserradero" (aka the "Log Ride"), which also features a splashdown – you might want to make it the last ride of the day. I once rode it early on during my visit and was miserable the rest of the day. My clothes were soaked and I ended up getting chafed on the inside of my thigh. Not fun.
Watch Stryker and Aaron Ride the Joker Roller Coaster When It First Debuted
5 Texas Myths That Aren't Really Myths
Sure, texas isn't short on folklore. But there are many things people from outside Texas believe are myths, but are actually true.
2022's Top 10 Bars in Wichita Falls According to Yelp
If bellying up to the bar is your thing, here's the list of places you need to hit up in 2022.
Five Great Locations for Buc-ee's in Wichita Falls
We here at the radio station are all in favor of Buc-ee's coming to Wichita Falls. Here are five great locations for one.