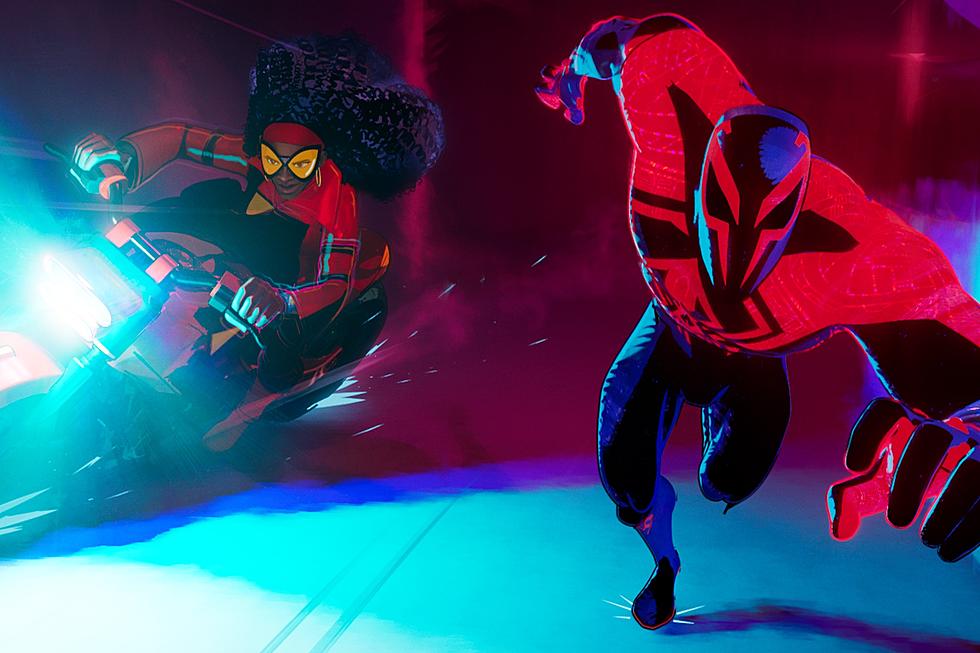 There Are Multiple Versions of 'Across the Spider-Verse' In Theaters
Sony Pictures Animation
How fitting that a movie about multiple versions of Spider-Man, set in a multiverse with many different variations of the Marvel hero, itself has multiple versions playing in theaters simultaneously.
Fans going to watch Spider-Man: Across the Spider-Verse have begun to spot (no pun intended?) small but noticeable differences in the movie from one theater to the next. The one moment that has gone viral online is a brief dialogue exchange between Oscar Isaac's Spider-Man 2099 and his holographic assistant, Lyla (Greta Lee). In one version, Lyla takes a mocking selfie of herself and Spider-Man 2099; in another version, that beat never occurs.
You can see both for yourself in the tweet below — which has already been retweeted by Across the Spider-Verse associate editor Andy Leviton with the response "I was wondering when people might start noticing..."
READ MORE: The Scene That Reveals Across the Spider-Verse's Hidden Meaning
This is a pretty tiny change, so unless you go see the movie many times and pay very close attention, it's going to be hard to spot more of them. So we'll probably have to wait for home video to find them all — if the home video release will even include them. I'm not even sure they will. Theoretically, you could release one cut on Blu-ray and another on Digital, or give different stores different exclusive cuts with these sorts of tiny variations. Or you could potentially just have one version on every release, but then you could include a special feature where you reveal all the alternate scenes that they used in theaters.
We already knew about one other variation of Across the Spider-Verse playing in theaters. After some complaints from some opening weekend audiences that certain moments in the film (like the opening Gwen Stacy monologue) were difficult to hear, Sony reportedly updated prints of the movie with a tweaked sound mix.
So the multiverse is very much real, and it exists entirely within the many different versions of Spider-Man Across the Spider-Verse. The film is playing now in theaters. The sequel, Beyond the Spider-Verse, is scheduled to open in theaters next March.
Every Marvel Movie Ever Made, Ranked From Worst to First
From the Captain America serial to Spider-Man: Across the Spider-Verse, we ranked the entire history of Marvel at the movies.