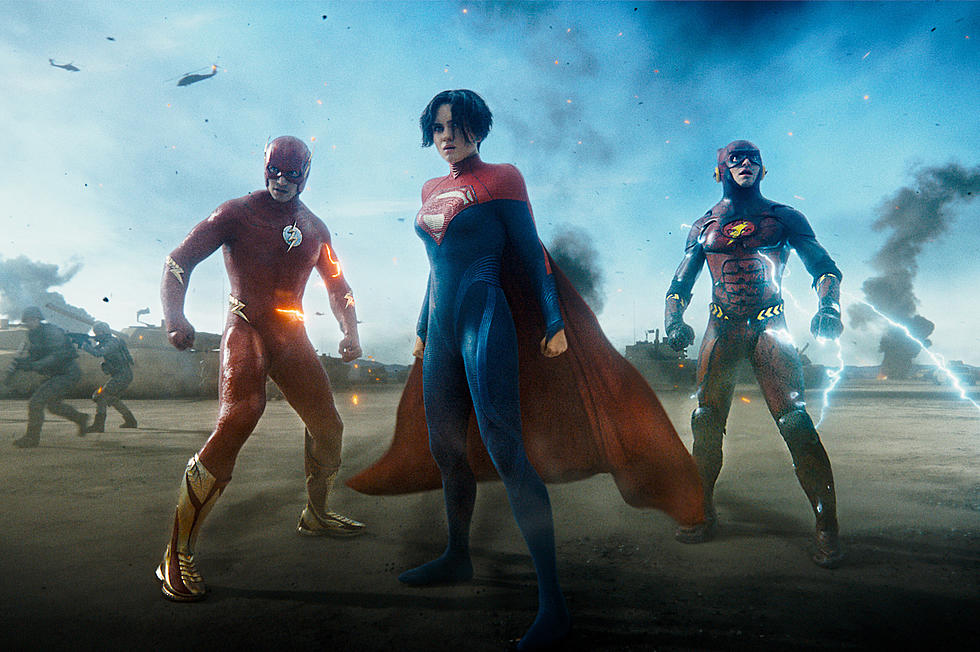 'The Flash' Slips to Third Place at Weekend Box Office
Warner Bros.
The Flash did not get off to a fast start at the box office last weekend. (You heard me; I love a running pun.) If Warner Bros. was hoping the film might hold on well in theaters, and perhaps begin to generate good word of mouth from those who did see it, it appears that didn't happen in its second weekend. The film dropped a precipitous 72 percent, and grossed just $15.2 million in domestic multiplexes. Any drop over 70 percent is considered pretty bad — especially for a movie of The Flash's size, which reportedly cost in the neighborhood of $200 million.
Even worse, The Flash didn't just slip from first to second place on the weekend box office chart; it fell all the way to third. Sony's Spider-Man: Across the Spider-Verse, now in its fourth weekend of release, reclaimed the top slot on the weekend box office chart and grossed $19.3 million in U.S. theaters. (Its percentage drop from the previous weekend was just 28.5 percent.) And second place belonged to Pixar's Elemental, which got off to nearly as rough a start as The Flash, but did seem to find a little goodwill amongst family audiences. It dropped only 37 percent from weekend-to-weekend, and grossed $18.4 million.
READ MORE: Every DC Extended Universe, Ranked From Worst to First
The Flash's stumbles at the box office continue ac old streak for DC Comics movies at Warner Bros., following the disappointing grosses for Black Adam and Shazam! Fury of the Gods. Whether their poor performance is simply because none of these movies were particularly great (although I personally though The Flash was mostly pretty enjoyable) or because audiences are beginning to tire of so many superhero movies (although that hasn't stopped Spider-Verse from already outgrossing its predecessor), or whether fans have pretty much written off this final batch of DC Extended Universe movies while they wait for the new DC Universe to begin under James Gunn (even though he called The Flash one of the best superhero movies he'd ever seen) is hard to tell. Whatever the reason, it's hard to argue the company is in fabulous shape at the moment.
Still, all it could take to turn things around is one really good movie. The Flash is in theaters now. The next DC Comics movie, Blue Beetle, is scheduled to open in theaters on August 18.
The Best DC Comics Movie Posters Ever
These posters for DC films would look great on the wall of a home or a movie theater.