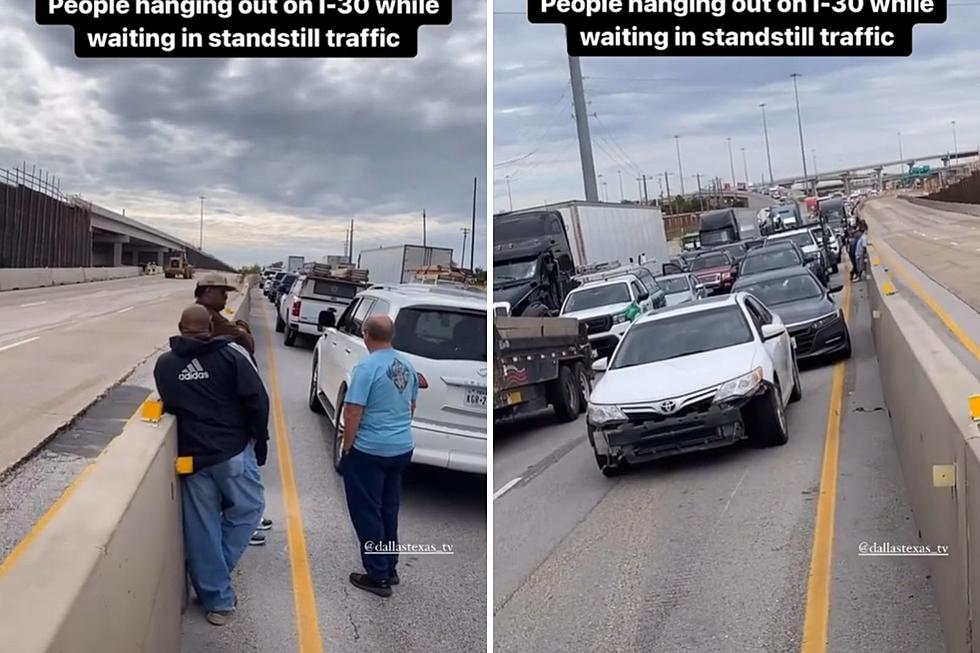 Drivers Hang Out On North Texas Interstate While Traffic Is At a Standstill
TikTok: Dallas Texas TV
Might as well make the most of a bad situation. 
I'll go ahead and throw it there that the traffic situation in Dallas-Fort Worth was the main reason I moved away back in 2000. And it has gotten so much worse since then. 
Since I still travel there quite a bit, I invested in a TollTag a couple of years ago. It's totally worth the money to me, but I couldn't afford to pay the tolls if I had a daily commute there.
This means that if that were the case, I would have been right there with the folks in the video below. And oh how frustrating it is to be in a standstill in traffic and powerless to do anything about it. 
According to the guy narrating the video there had been a semi wreck on I-30 and traffic had been at a standstill for about an hour at that point. He speculates that they would probably be at a standstill for another two hours. 
So, several of the people took advantage of the opportunity to get out and socialize. 
While I'm a total introvert and find it difficult to converse with people I don't know, I find sitting in a vehicle for hours at a time to be much more difficult. So, I would have been more than happy to strike up a conversation with a total stranger if I were in that situation.
@dallastexas_tv

Major accident off I-30 in Mesquite this afternoon, traffic has been at a standstill for more than an hour (via @jayegetmoney)
16 Weird and Obscure Laws That Exist in Texas
Texas is full of weird laws that will leave you wondering why they ever existed.
The Five Texas Towns That Rank As 'Most Miserable' Places to Live
Business Insider
did an analysis of the "Most Miserable" towns in America based on census data. 5 of those 50 towns were here in Texas
Gallery Credit: various
10 Reasons Why Texas Is the Best State in America
This is 10 things in Texas that make it the best state in America.
Gallery Credit: Piggie , Canva