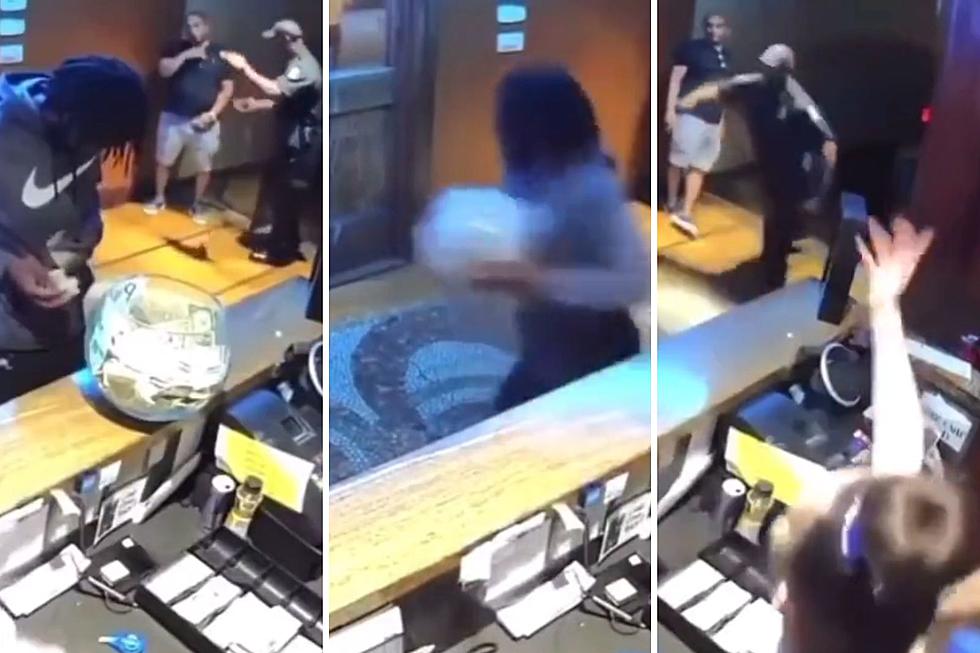 Tip Jar Swiped From Strip Club in Texas
Twitter/Canva
A seemingly innocent tip jar, snatched away from its rightful home, leaving patrons and staff alike stunned and speculating about the audacious culprit behind the caper.
As per usual, we'll be dissecting the video at the bottom of this article without any context.
For all we know, the gentleman in this video was merely moving the tip jar from one area of the bar to another, more secure area.  Maybe bringing in back to put it in the vault?  We'll never know, so let's get into it.
The Setting: An Iconic Texas Strip Club
Our scene opens with a view from a security camera at PT's Men's Club in Dallas, Texas.  A man in a Nike Swoosh shirt is seen counting money, appearing as if he's about to drop some dough in a tip jar.  To the right, a security guard can be seen talking to another guy.
The Crime That Stole the Show
This is where I would have become suspicious if I was the girl at the counter.  Nobody takes that long deciding how many bucks to throw in a tip jar. Also, why are we tipping the cashier?  I love how he actually throws his money in there a millisecond before snatching the money and running off.
The Culprit: A Mastermind or a Thrill-Seeker?
After what seems like ages, and with the cashier yelling and gesticulating wildly, the security finally realizes what's happening, and breaks out into the slowest jog of a pursuit we think we've ever seen.  This man did not seem interested in an altercation.
Conclusion
That's it.  Check out the video for yourself below an keep scrolling for the best comments from Twitter.
$7,000 in Total Reward Money Offered for 2 Fugitives Wanted in East Texas
Lufkin Police and Henderson County Sheriff's Office is looking for two fugitives on Texas Most Wanted List.
10 Sayings That Everyone Needs to Understand in Texas
Here is a look at 10 things that are common to hear in the state of Texas and what they mean.
The Best Hidden Gems in Texas